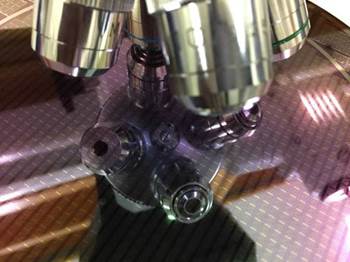 The MEMS-based gas sensor. Source: Rogue Valley MicrodevicesMicroelectromechancial systems (MEMS) foundry Rogue Valley Microdevices is partnering with AerNos to develop ultra-miniature gas sensors that can be used in mobile devices, wearables and the Internet of Things (IoT).
The gas sensors can detect multiple gases simultaneously and is capable of measuring at parts per billion (ppb) levels. The MEMS-based 3 mm x 3 mm sensor chip features AerNos' AerCNT technology that uses hybrid nanostructures to detect specific gases such as nitrogen oxides, ozone, carbon monoxide, sulfur dioxide, hydrogen sulfide, methane, formaldehyde and other volatile organic compounds.
Rogue Valley says gas sensors are important because air quality can vary from home to home and between floors of a building or between different manufacturing environments. These gas sensors provide a path toward personalized environmental monitoring in a smart home as well as possible monitoring for smart cities.