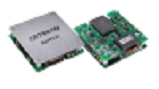 Artesyn Embedded Technologies has launched a 700 W half-brick DC/DC converter module, the ADH700 series. The first model available offers a 28 V nominal output and is designed to support the popular use of LDMOS technology used in high-power wireless base station (BTS) deployments.
The ADH700 series nominal 28 V model can deliver up to 28 A output current and offers a wide trim range of 14 V to 33 V. Housed in the industry- standard half-brick format (2.4 × 2.3 in. or 61.0 × 57.9 mm), the ADH700 series is 0.5 inches (12.7 mm) high. The DC-DC converter series offers greater than 95% typical efficiency and a wide input range of 36 to 65 V. An aluminum baseplate structure gives ADH700 series modules good thermal performance. The 28 V model can operate between –40° C and +85° C ambient temperature, and can continue to operate at full power up to 100° C baseplate temperature—all without air cooling. The conversion technology employs 280 kHz fixed-frequency switching to help minimize external EMI filtering requirements.

Other features include remote enable and remote output sense and trim with protection features, such as input under-voltage lockout, output over-current protection, output over-voltage protection, and over-temperature protection. No minimum load requirement helps to increase reliability and contributes to an MTBF of two million hours (calculated according to Telcordia SR-332-2006).