Researchers at Ithaca College have developed a new type of prosthetic hand using 3-D printing that can be used to grip, write or even a catch ball.
The hand is designed to be matched with a person who can move his or her wrist, and the wrist is used to control and use the prosthetic's fingers to grab and hold various objects. The researchers envision this new type of prosthesis as a cheap way to provide sophisticated limbs. The hand was produced with about $15 in materials and a standard 3-D printer.
Ryan Bouricius, senior physics major at Ithaca, found free designs online for the hand and printed 3-D pieces to assemble the hand in about one day. Since then, Bouricius has been working on the prosthetic and how to improve it.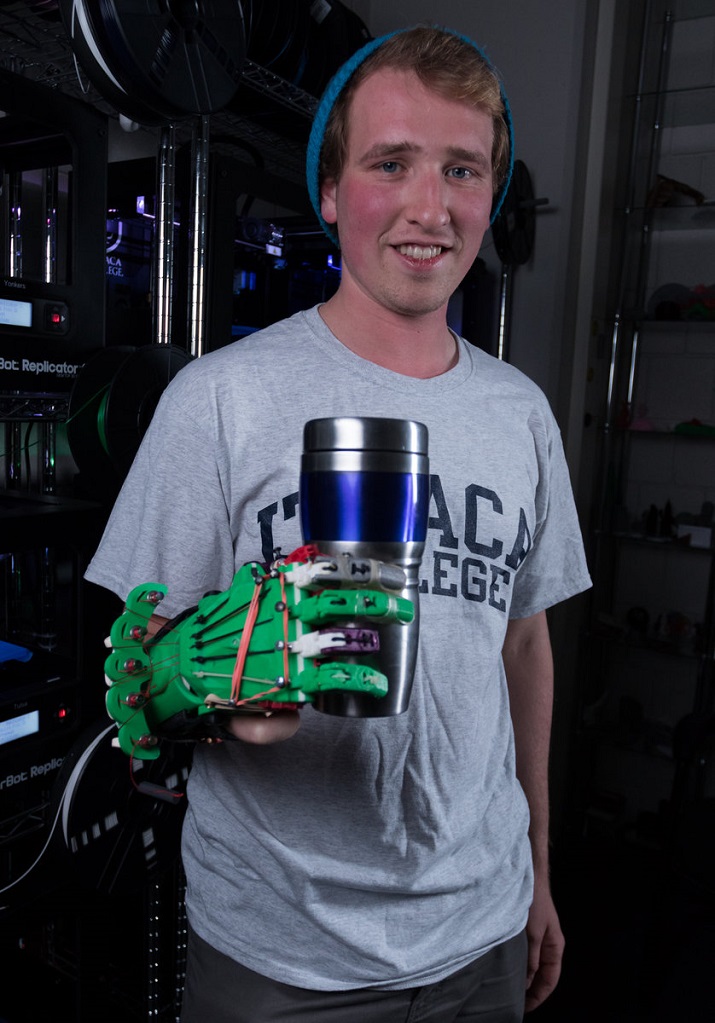 3-D printing allows the hand to be upgraded to fit a child who would normally grow out of a prosthetic in a number of months or years. Source: Ithaca College "I like to use it around the apartment to see what problems are faced, because I can only imagine what it would be like to actually need a prosthetic hand," Bouricius says. "It's given me an appreciation for what human hands can do, and I've been trying to match it as best as I can."
After testing the device, Bouricius altered the original design of the hand to make it more functional, such as changing the thumb—which was originally perpendicular to the fingers—to enable it to grab items more effectively. He also altered the grip, so the hand could grab larger objects, such as a coffee mug.
Using 3-D printing offers a number of advantages in prosthetics because the price point is lower than for a traditional electronic hand, as it is made with mostly plastic. This also allows the hand to be repaired more easily than a hand made from metal, and allows it to contain complex components despite the fact that pieces in the 3-D printed hand are composed of trickier shapes, researchers say.
This is important when it comes to creating prostheses for children because kids tend to outgrow them quickly, which can result in mounting costs to families. Thus 3-D printing allows families to re-print larger sizes as the child grows, Ithaca College says.