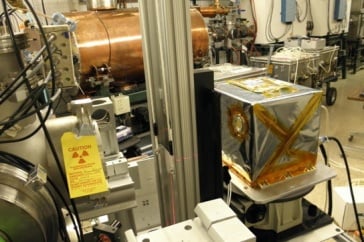 The Energetic Heavy Ion Sensor was designed, built and calibrated by University of New Hampshire researchers.Weather instrumentation developed by researchers at the University of New Hampshire (UNH) Space Science Center for the National Oceanic and Atmospheric Administration (NOAA) weather satellite was launched into space Saturday, November 19, from Cape Canaveral, Florida.

Safer Travel with Radiation Detection

The UNH researchers designed, built and calibrated the Energetic Heavy Ion Sensor (EHIS), part of the Space Environmental In-Situ Suite (SEISS) of instruments. The sensors allow scientists to monitor the level of energetic ions, from protons to nickel, over long periods. These ions populate the near-Earth space environments and are the main cause of radiation damage in space, affecting communications, GPS satellites, commercial airlines and spacecraft. In addition to causing mechanical damage, these ions can cause biological harm to pilots and astronauts who spend time in the increased heavy ion environment. By monitoring the levels of radiation, scientists would be able to recommend re-routing planes to reduce long-term radiation exposure to the pilots and crews who tend to fly the same routes day after day.

The Path to More Accurate Weather Predictions

The EHIS is part of advanced technology known as the Geostationary Operational Environmental Satellite-R (GOES-R), instrumentation that permits meteorologists to more accurately predict adverse weather conditions.

Described in a press release as "the meteorological equivalent of going from black and white imagery to ultra-high-definition color TV," the GOES-R satellite can deliver images of severe weather every 30 seconds with four times greater image resolution. The satellite scans the Earth five times faster than previous technology using triple the number of spectral channels. This will improve hurricane tracking and intensity forecasts, as well as the forecasting of tornadoes, thunderstorms, flooding and other severe weather conditions.

The GOES-R instrumentation is NOAA's biggest satellite advancement to date.