Pulses of electromagnetic energy, often referred to as EMP, have the ability to cripple electronic infrastructures, which in turn could threaten national security such as power grids and data centers.
In order to protect against such attacks regardless of origin, engineers at the University of Nebraska-Lincoln (UNL) have developed cost-effective concrete that shields against intense electromagnetic pulses by being coated or built with the protective concrete.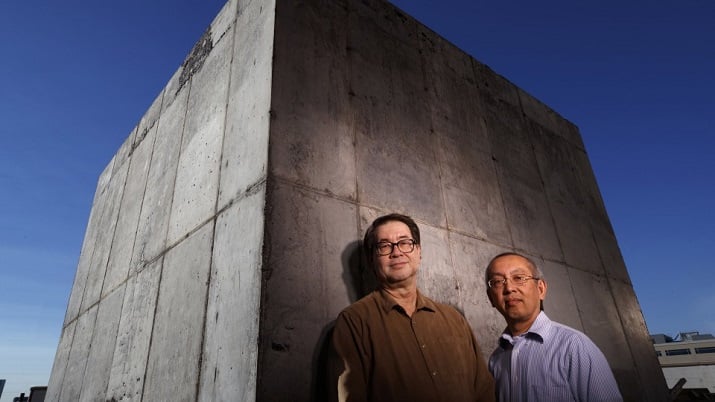 Using magnetic reflecting minerals, UNL's concrete shield can protect against electromagnetic wave pulses in the event of an attack. Source: University of Nebraska-Lincoln Electromagnetic energy travels in waves and can come from sunlight, radio waves, microwaves, x-rays or gamma rays. But a burst of electromagnetic energy caused by a high-altitude nuclear explosion or EMP device could cause widespread electronic failures.
"EMP is very lethal to electronic equipment," says Christopher Tuan, professor of civil engineering at UNL. "We found a key ingredient that dissipates wave energy. This technology offers a lot of advantages so the construction industry is very interested."
In fact, UNL says the technology is ready for commercialization and has signed an agreement to license the shielding technology to American Business Continuity Group LLC, a developer of disaster-resistant structures.
How It Works
Engineers first came up with the idea for EMP shielded concrete after they developed concrete that would melt snow and ice from roadways or bridges.
The technology works to both absorb and reflect electromagnetic waves by replacing standard concrete with magnetite, a mineral with magnetic properties that absorbs microwaves. The technology is also more cost-effective than current shielding technologies that employ metal enclosures that require expensive metal panel or screen construction which limits its feasibility in large structures.
The technology can be implemented using a spray-on method of applying concrete that is cheap to retrofit existing buildings or to protect existing critical infrastructure, financial institutions, data servers, aircraft and military installations.
"The concrete has the ability to provide what we call a multi-threat structure," says Lim Nguyen, professor of electrical and computer engineering at UNL. "The structure has to be able to withstand an attack either by an explosive or an electromagnetic attack or other scheme."