The future of transportation may not come in the form of a traditional vehicle at all if Elon Musk and his aerospace company SpaceX have any say in the matter.
The company has sponsored a Hyperloop competition that has challenged the research community to submit ideas and now prototypes for a tube-based passenger system that could travel between cities at the speed of sound. SpaceX plans to then test the prototypes in January of next year on a mile-long test track in California.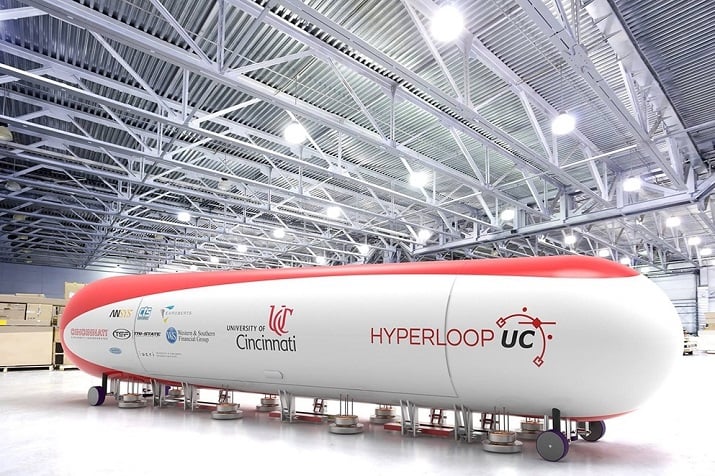 In this rendering, the University of Cincinnati's Hyperloop pod is seen as a finalized product for tube-based travel. Source: University of Cincinnati Researchers at the University of Cincinnati (UC) accepted the challenge and their solution, a 14-foot-long Hyperloop pod that uses magnetic levitation, was one of 30 that advanced to SpaceX's testing round. The UC's Hyperloop sounds like something out of the franchise "Star Wars" revving up to levitate off the ground using quarter-inch magnets to lift the shell of a vehicle above the earth.
The idea of a tube-based passenger system is something that could, if successful, completely change how commuters and travelers get from place to place and the speed at which they travel, the researchers say. The UC researchers cite the example of traveling from Cincinnati to Chicago in such a system would only take a half-hour. Passengers would be placed in a capsule that levitates through a tube at more than 700 mph.
Such ideas have been the work of science fiction for years, but the Hyperloop system could make this fiction a reality.
"When we talk about innovation and what that means, it is not about making money," says Rob Richardson, UC's board of trustees chairman. "It is really about that spirit and that passion that anything is possible, and you can rebel against the status quo."
The next step for the UC Hyperloop pod is to be transported to SpaceX's preliminary test track in November and then to compete with the other 29 teams in January.