Explosions can occur in the blink of an eye, wreaking havoc and leaving surviving bystanders in a fog (often literally). But advances in high-speed cameras, imaging techniques and computer modeling could help researchers at Sandia National Laboratories in Albuquerque, New Mexico, understand fragmenting explosives, including pipe bombs and other improvised devices, in ways they never could before.

The technology gives researchers the chance to learn how explosive devices come apart and how much destruction they cause, in order to learn how to mitigate that damage.

Improvements in diagnostic equipment allow researchers to better measure what goes on during an explosion. High-speed digital cameras can capture millions of frames per second, creating measurements that feed complex computer models and help validate them. Meanwhile 3-D X-ray movies can track how fragments move in the early stages of an explosion, when smoke, flame and dust may obscure optical lens images. The project uses image-processing algorithm techniques developed by Diagnostics Science and Engineering researcher Dan Guildenbecher to help eliminate noise that interferes with accurate measurements.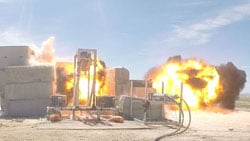 By tracking the trajectory and size of explosion fragments, researchers may find ways to mitigate the damage from explosive devices. Researchers hope to be able to watch an exploding device expand, come apart into fragments, and then trace the location and movement of those fragments. To that end, Measurement Science and Engineering department researcher Tim Miller is developing algorithms to measure the shape and trajectory of explosive fragments. The research involves modelers and experimentalists working in parallel, with the experimentalists sharing their data so the modelers can change their coding to improve accuracy.

Sandia researchers are working to create computer models of explosive phenomena for broader studies because it is impossible to conduct experiments for every possible situation, said Phillip Reu, team leader for diagnostic development, on the three-year study and a member of Sandia's Diagnostics Science and Engineering department, in a press release.