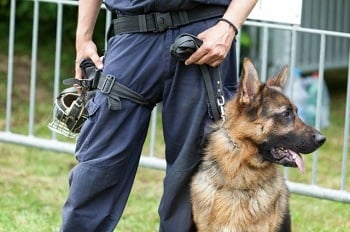 New training techniques based on real-time analysis of what a dog smells could improve explosives detection. Image credit: wellphoto/Shutterstock.com
The ability of dogs to detect explosives can be improved with a rigorous training scheme based on real-time analysis of what canines actually smell when they are exposed to explosive materials.
MIT researchers sought to better understand the components within explosive odors that cue a dog's reaction. Training to detect odors emanating from TNT, nitroglycerin and other explosives is a crucial element, but delivering low-concentration vapor during training sessions is a challenging task. Cross-contamination of training materials with samples from different explosives can skew results and confuse both dogs and handlers.
A real-time vapor analysis mass spectrometer was developed to more accurately measure the vapor plumes from explosives that trigger a canine response. In field trials, the researchers used the device and found that some mistakes the dogs made were indeed correct identifications. For example, some "blanks" were used that were ostensibly prepared without explosive material, but the dogs indicated an explosive was present. When the researchers used the mass spectrometer on such blanks, they found evidence of explosive vapors, indicating cross contamination occurred or other interferents were present.
The researchers suggest that use of real-time vapor analysis could help differentiate canine mistakes from cross contamination and other issues during training.