Ballbots—robots with a tall, thin body that glides on top of a sphere, no larger than a bowling ball— have been around for more than a decade. But
the latest incarnation, the SIMbot
, represents a significant advance in the technology. It uses a spherical induction motor (SIM), invented by ballbot creator Ralph Hollis, a research professor in Carnegie Mellon University's 
Robotics Institute
, and 
Masaaki Kumagai
, a professor of engineering at 
Tohoku Gakuin University
 in Tagajo, Japan, to eliminate the mechanical drive systems that were often prone to failure. The SIMbot also requires less routine maintenance than its predecessors.
While Holllis and Kumagai designed the motor, Ankit Bhatia, a Ph.D. student in robotics, and Olaf Sassnick, a visiting scientist from Salzburg University of Applied Sciences, adapted the SIM for use in ballbots.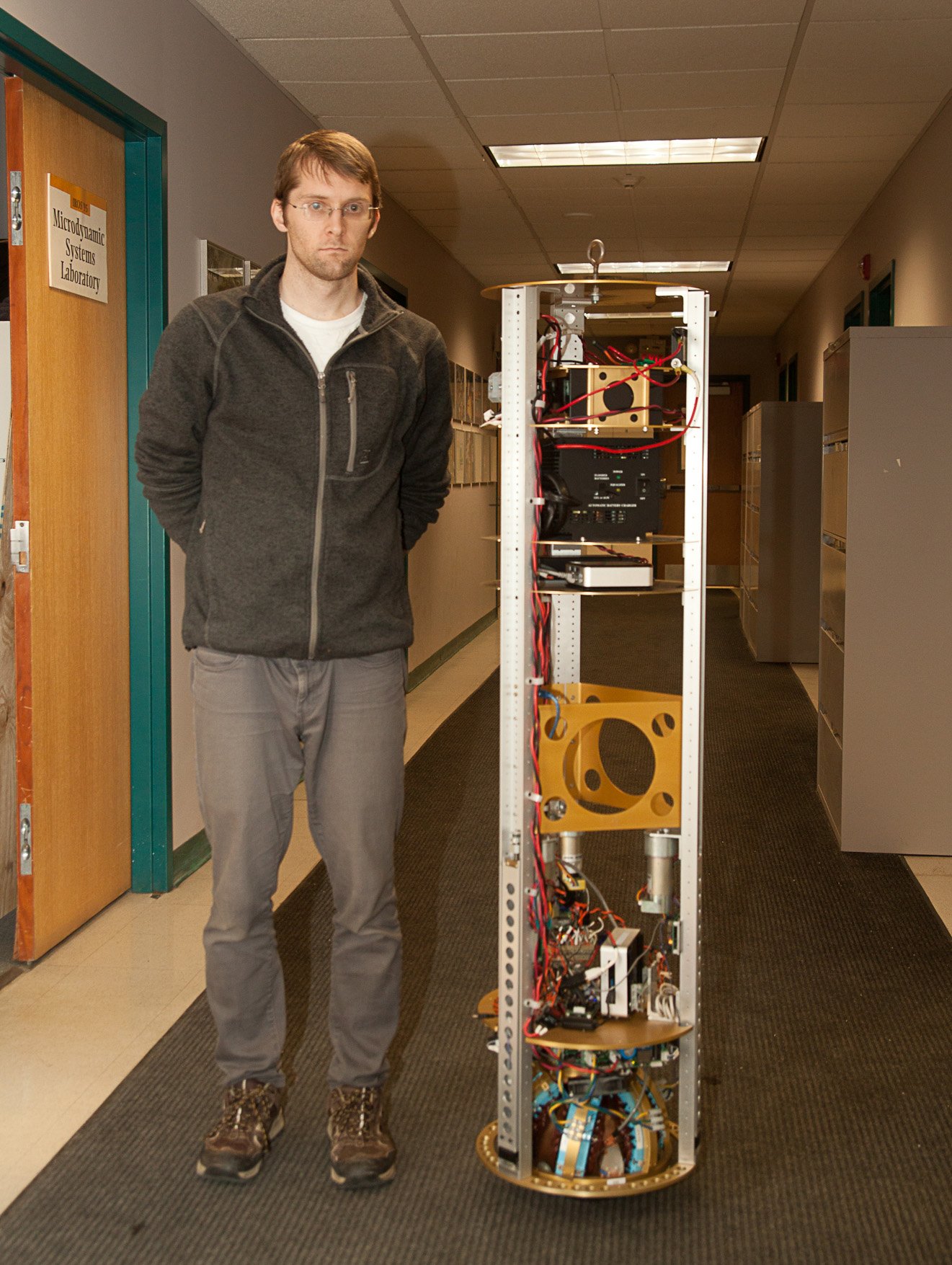 Carnegie Mellon University graduate Greg Seyfarth poses with SIMbot.
Previous ballbots used motors to actuate rollers that pressed against the ball to move it in multiple directions. But the belts would wear out and need to be replaced, requiring recalibration of the entire robot, which was a time-consuming process.

Induction motors—which are proven technology—use magnetic fields rather than an electrical connection to induce electric current in the motor's rotor. In the SIM, the rotor is a precisely machined hollow iron ball with a copper shell. Six laminated steel stators, each with three-phase wire windings, induce current in the ball, generating travelling magnetic waves that enable the ball to move in the direction of the wave. Advanced software gives the SIMbot the ability to move in any combination of three axes, spinning the ball all the way around for omnidirectional motion.

Ballbots are well-suited for working with humans, according to Hollis, and may perform tasks such as helping someone out of a chair, carrying packages, or even guiding a person with special needs. A ballbot can stand as tall as a human being, and is thin enough to move through doorways, in hallways, or to navigate between furniture. A ballbot is inherently compliant, which means a person can push it out of the way when necessary. The SIMbot can travel at the speed of a very fast walk.

Hollis believes the SIMbot technology could make ballbots more accessible and practical for widespread adoption.

The National Science Foundation and Japan's Grants-in-Aid for Scientific Research (KAKENHI) supported the research and report on the work was presented at the May IEEE International Conference on Robotics and Automation in Stockholm, Sweden.