While the audio–visual and consumer electronics industries continue to focus on 4K resolution, the word at major industry trade shows, including this summer's InfoComm16—the trade show of the Audiovisual Association—and the recent CEDIA Expo—the U.S. gathering of home technology professionals hosted by the Custom Electronic Design and Installation Association—is that 8K and even 16K is right around the corner.

Stewart Filmscreen acknowledges the future of resolution, revealing that the screen materials used for its top-selling screens for both commercial and residential applications can accommodate resolutions of up to 16K and have been able to since 1947. The announcement comes along with a host of new products designed to meet the needs of integrators and home technology professionals working on projects of any size and any budget.

To fully understand why 16K resolution capabilities make a difference as the display industry moves toward higher-definition video, it is important to look at the technology and the mathematics behind display resolution.
Why 16K Counts
Image resolution relates to much more than just pixel density. While the number of pixels does correlate to the amount of information—the resolution—of a given image, the visible resolution is also affected by the light engine, the processor, internal and exit optics, and even the projection screen. Today's standards refer to both source information and visual acuity, explains the company in a press release.
Top Hollywood production studios are currently embracing 8K video capture, and 16K may not be far behind, Stewart Filmscreen leaders predict. But even though the industry has not yet achieved 16K resolution, even 4K and forthcoming 8K displays can enhance lower-resolution content and improve the viewing experience.
"Lest it appear to be overstating the case in support of higher resolutions and dynamic range, we can see the recent developments in the real world of the UHD standard. It begins at 4K (3840 x 2160 P) and goes up to 8K (76080 x 4320 P), embracing not only pixel density but advances in all optics, processors and source material that can take advantage of higher resolution and high dynamic rate [HDR],"
says Alan Brawn, CTS, ISF, ISF-C, principal of Brawn Consulting
, an audio–visual consulting, training, educational development and market intelligence company. "All of this increased resolution and dynamic range goes a long way toward images that approach what the human eye can see."
The screen materials should not be the weak link in the chain, Stewart Filmscreen believes. The company's screen fabrics can resolve six line pairs or arc minutes per millimeter, totaling 18,288 possible pixel addresses per ten feet of screen width—greater than the resolution of a 16K projector if one were available today.
Now Shipping: Torrent Large Venue ElectriScreen
This technology is available in most Stewart Filmscreen models shipping now, including new releases showcased at recent trade shows and recognized by the trade media. For instance, the Torrent large venue ElectriScreen, a recessed roller screen in sizes up to 17 feet wide,
won an AV Technology Best of Show Award
at InfoComm 2016.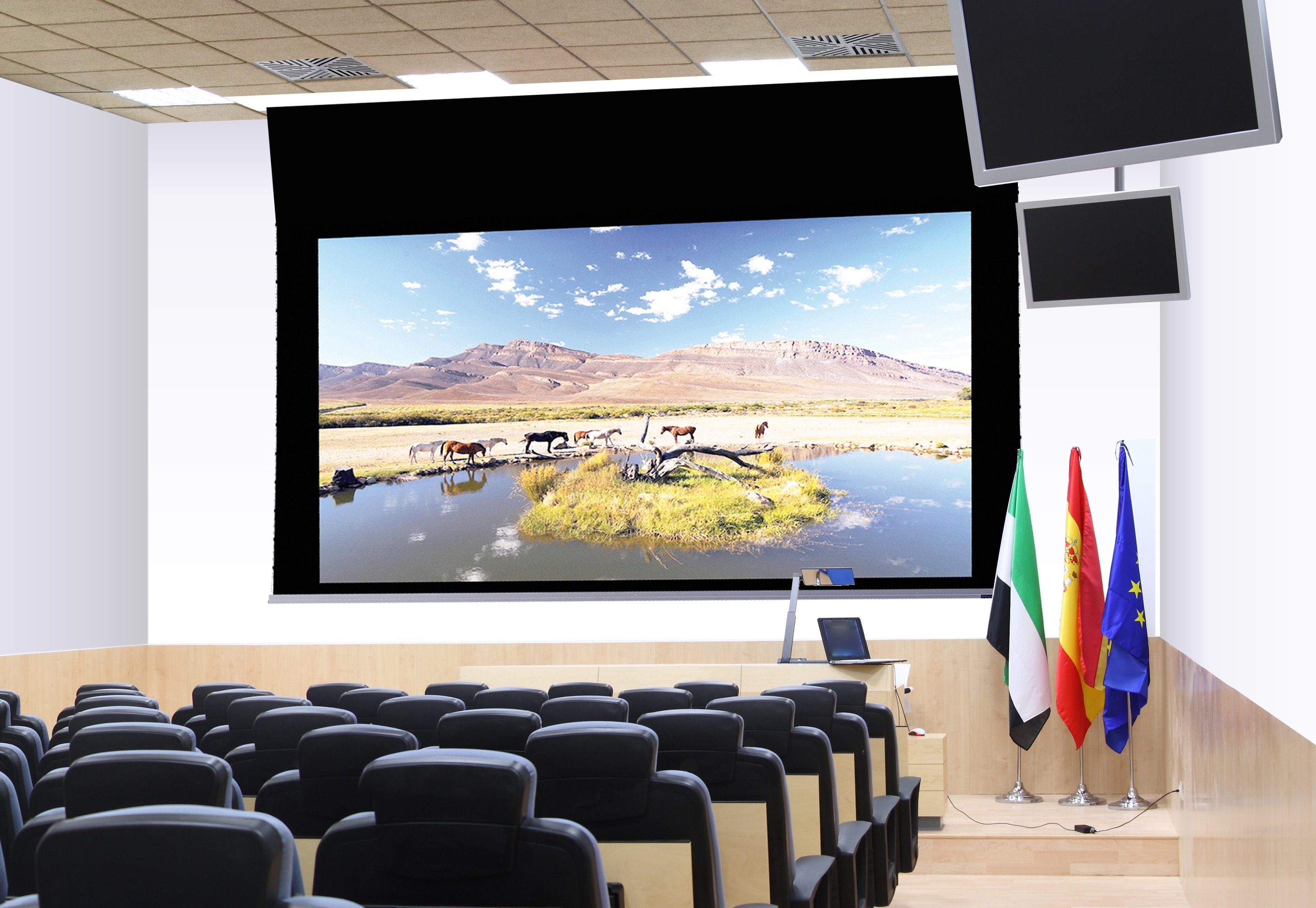 Custom-designed for corporate applications, educational facilities and houses of worship, the Torrent screen case measures only 9 1/4 inches tall by 12 1/2 inches deep, with a simple four-point mounting system to fit a wide range of ceiling depths for easier installation. Torrent eliminates side access covers through use of offset interior endplates and provides a substantially reinforced roller system to handle traditional aspect ratios. Integrators can also request extra black drop above the image areas to accommodate rooms with high ceilings.
The system comes standard with a 47 dB, low-noise, high-torque motor system, but options exist for even quieter motor systems. Like all Stewart Filmscreen electric screens, the Torrent can be configured with any of Stewart's flexible front- and rear-projection screen materials (with the exception of Silver 3-D), and has control options allowing for integration into virtually any automation system.  
Phantom HALR Rolls onto the Scene
While the Torrent remains a high-quality solution for projection systems in large venues, from oversized home theaters to auditoriums, the company's new rollable, acoustically transparent-capable
high ambient light rejection black screen material, deemed Phantom HALR
, is uniquely suited for high ambient light applications. From outdoor stadiums to family rooms where other activities may be taking place at the same time people are watching a movie, enjoying a TV show, or even playing a video game, the screen—initially revealed at CEDIA Expo in Dallas—fills a space in Stewart Filmscreen's product line.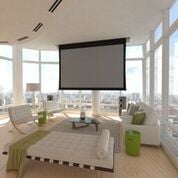 Available in seamless sizes up to 40 feet by 90 feet, the screen material fits most of Stewart Filmscreen's fixed frame or ElectriScreen housings. Phantom HALR is UHD and HDR-ready, with 16K+ capabilities, and will calibrate out to REC 2020 or REC 709 standards without obvious color aberrations or shift that skews the primary and secondary colors.
Test results reveal that Phantom HALR delivers over 30:1 contrast for a 2,000-lumen light output projector in a room with 20-foot candles of ambient light and several sources of light hitting the screen surface at 40-degree angles. In high ambient light conditions with over 50-foot candles of ambient light directly on the screen, Phantom achieves ANSI-standard industry contrast ratio standards.
Featuring a category-leading L* value of 57 and ambient light reflectance value of 18%, Phantom is designed to deliver the brightest images, truest colors, whitest whites and blackest blacks in any environment, according to the manufacturer.