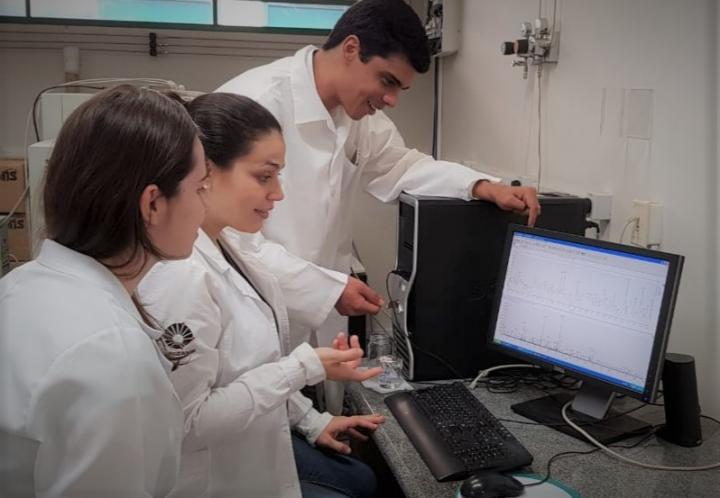 Innovare Biomarker Laboratory´s team. Source: UnicampResearchers from the University of Campinas created a computer program that analyzes the molecules in blood plasma and searches for biomarkers that indicate the risk of obesity and obesity-related diseases, helping doctors to make recommendations before a problem arises.
According to its developers, the data processing system combines metabolomics with machine learning. In the test, a mass spectrometer produces a profile of various metabolic processes in an organism and screens a blood sample for the five metabolites that function as biomarkers for predicting weight gain. Data is processed by software and if one of the biomarkers is present and the patient is obese, the patient tends to develop diabetes.
The data used to develop the algorithm was supplied by 180 people, half of whom were in a healthy BMI range while the other half were overweight to varying degrees. Anthropometric measurements were taken of all participants. They also completed a questionnaire on family history of chronic disease, age and gender. Some patient data was used to train the software and the rest was used to validate the software. A random forest machine learning algorithm was used for the training.
The software found 18 metabolites that serve as biomarkers of metabolic processes related to fact accumulation and five of them have the potential to predict weight gain. A combination of biomarkers suggests that feedback from the inflammatory cascade occurs in overweight people. The program was 90% accurate at detecting if a patient will gain weight and if they are at risk of developing an obesity-related disease.
The program would be used to assess the effectiveness of a treatment prescribed to reduce a patient's body fat percentage.
A paper on this technology was published in Frontiers in Bioengineering and Biotechnology.