While robots will someday replace human workers in warehouses, humans will still be necessary for a very long time—only they will not be needed much inside of the warehouse.
In 2012 Amazon paid an exorbitant amount of money to acquire Kiva Robotics, the company that would help stock its distribution centers with robotic helpers.
Since then, a sort of robotic fulfillment race has begun, with companies worldwide introducing autonomous systems capable of performing repetitive tasks alongside workers.
Lior Elazary, Dan Parks and Randolph Voorhies were working together at the University of Southern California on some DARPA-related projects when they decided they wanted to start their own robotics company.
Instead of creating a robot and then hoping to find a market for it, the trio decided to address the current realities.
"What problems are best suited for robotics right now?" asked Elazary, CEO of InVia Robotics, a company dedicated to evolving the concept of a fully automated warehouse into a reality.
In keeping with the rise of robots handling warehouse fulfillment jobs, as well as the labor shortage in the e-commerce space these days, the three decided to look into the development of this kind of robotic system.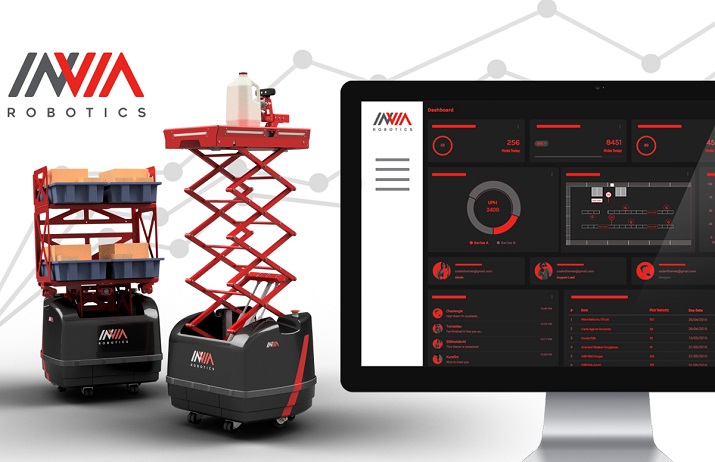 (Image Credit: InVia Robotics)
According to InVia Robotics, the U.S. ships almost 25 million products per day via e-commerce sites. To find people to handle all of this work within warehouses is costly. Elazary estimates that is roughly 60 to 80 cents just to get one product off the shelf if you had to pay a human.
"We [at InVia Robotics] can do it in about 10 cents," he says.
The InVia team came up with a system that comprises a plethora of artificial intelligence advancements that have occurred over the past decade.
InVia's robots employ vision sensors to navigate and recognize items, then get to work selecting the items from the shelves and fulfilling orders. This technology is part of the reason the company can provide the robots as a service while reducing customer costs.
The company believes in supplying "robotics as a service," so a customer can pay a small set-up fee and grow its warehouse robot fleet as needed, making it possible for even smaller warehouses to get on board with the robotics revolution.
This business model encourages more competition in the industry, as more and more are discovering that you do not need to spend a hefty $700 million to equip a warehouse with a ton of robot employees.
According to the United States Census Bureau, e-commerce currently makes up 8.10% of retail sales in the U.S. Research company Forrester Research predicts that another 26 million shoppers will be browsing and buying from retail sites by 2020, reaching 270 million, as a result of bigger, better and faster networks that make it simple for consumers to buy everything they need via the internet.
Major retailers like Walmart and Target have been used to a traditional pairing of automation and manual labor, which has been cost effective for them. However, InVia does mention it is in talks with some major retailers who may be looking to implement a series of the company's robots into their fulfillment centers. However the company is not at liberty to discuss the talks further at this time.
So how does an InVia Robotic system work to get packages ready for shipment?
From a technology perspective, the InVia team looked to avoid integrating costly sensors into its robots.
"Lidar is still pretty expensive," said Parks, touching on the fact that this technology also requires a structured environment to be most effective.So along with using about five cameras on the robots for navigation and item recognition, the team opted to employ sonar for collision avoidance.
The inVia solution does not have a robotic arm and is capable of picking a variety of items, ranging from a pack of gum to boxes and totes weighing up to 30 lb. The suction solution used in InVia's robots aims to be a lot less costly than spending nearly $30,000 for grippers.
The company's robots are capable of removing about 80% of the items off the shelves in a warehouse.
"For the other 20% we need humans to help," said Elazary.
The system is pretty simple to use, too. There is an ordinary power button that turns the robots on and off, and everything can be manipulated via the management system and accompanying software.
The flexible system also allows warehouses to make changes during peak seasons, such as the winter holidays.
In the event that a robot fails at a task, it is equipped with a system that relays that information back to InVia so that the robotics corporate center can tend to the issue and fix it quickly.
"We don't think that people need to be right next to the robots to interact," says Elazary, about the transformation of warehouses thanks to technology like this. For example, the company says there can be warehouses with only robot employees that are still controlled by humans in another location for problem-solving tasks.
"We really don't have algorithms for the robots to come up with problem solving that humans can," said Parks. In the instance that something drops on the floor, a human would be able to troubleshoot the issue quickly, while a robot would need some human assistance.
The day when robots completely take over the warehouse realm will only occur once robots are equipped with the problem-solving skills of a human.
While the company is hopeful about its robots and the effect they will have on the e-commerce fulfillment industry, Parks admits that they "are not up to human standards by any means."
Next, InVia would like to apply its solutions in the manufacturing, airline, and medical fields. For example, currently, if a part were to break on an airplane, someone physically has to go grab that new part from a warehouse and have it to the technicians quickly to keep air travel moving along quickly. inVia's solution could be used here to in that warehouse to pick that part quickly.