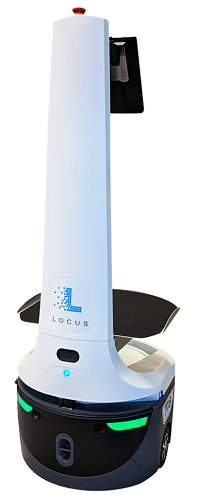 The LocusBot works autonomously alongside other industrial workers. Source: Locus RoboticsLocus Robotics has raised $26 million in funding to scale production of its warehouse robots.
This brings Locus' total funding to more than $66 million since its launch and follows new deployments with retail, third party logistics, distribution and other industrial customers in North America in 2018.
The company's LocusBots operate in a collaborative way with workers and move autonomously to where the workers are, which minimizes the amount of walking a worker does and also eliminates busy work. LocusBots automatically travel routes through the warehouse and increase productivity two to three times over traditional warehouse work.
The robots can do a wide range of tote and multi-bin picking and Locus said the robots can be used in any fulfillment requirement.
"The accelerated adoption of robotics technology worldwide is driving significant demand for autonomous mobile robots, and Locus brings to market a unique solution that provides an easy-to-deploy, flexible, and scalable approach to autonomous mobile robot-enabled fulfillment," said John Santagate, research director at market research firm IDC. "Locus's multi-robot solution is unique in the market as it allows human workers in the fulfillment process to execute too many orders as they can interact with multiple robots that are working independently of one another at any given time. The partnership with Zebra is also quite interesting as it combines a long-time leader in supply chain technology with an emerging vendor in a high growth market."