Say goodbye to your traditional hardened robots and say hello to a new generation of soft, even squishy, robotic creations.
Researchers at Harvard University have unveiled its "Octobot"—an eight-legged flexible robot patterned after an octopus that is made entirely out of soft materials and runs on hydrogen peroxide. The baby octopus-looking robot is what Harvard researchers say is the next step toward a new generation of completely soft, autonomous robots.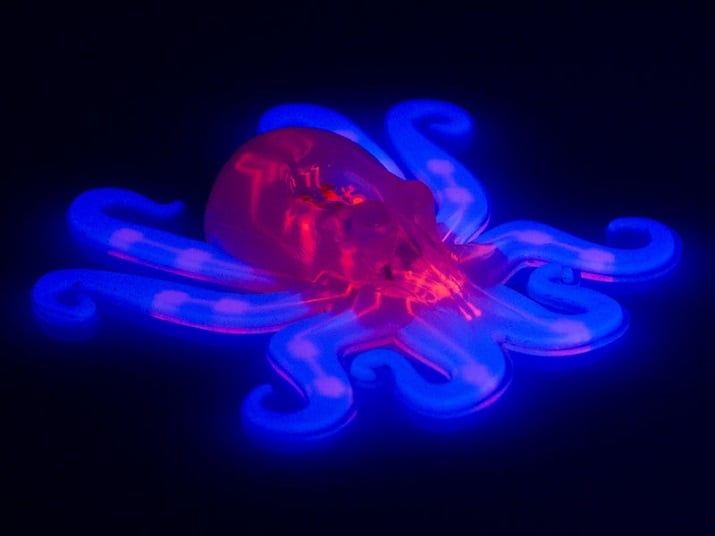 Harvard University's "Octobot" runs on a hydrogen peroxide solution with its squishy body being created through 3-D printing. Source: Harvard University Recent advances in soft robotics have yielded some results, but they still must be tethered to a hard robotic control system and power source, researchers say. But Octobot is an untethered device controlled by microfluidic logic that autonomously regulates fluid flow.
Researchers were able to create the squishy materials that became the body and legs of the robot through 3-D printing, while its pneumatic network was created using microscopic fluid channels connected to a circuit that controls liquid instead of electricity. The robot runs on a 50% hydrogen peroxide solution that enters two openings in the body of the robot and flows into its pneumatic network.
Harvard says the goal is to provide safer and more robust robots that can interact with humans better and adapt to natural environments better than traditional hardened robots. The project shows how through a hybrid assembly, researchers were able to construct a robot body as well as the necessary components for fuel storage, catalytic decomposition and actuation to enable system-level functions in a rapid manner. While this project is a minimalist approach, it could be used to create something greater in the future as more robotic advances are made and soft robots become necessary, Harvard says.
To contact the author of this article, email engineering360editors@ihs.com