Analog Devices, Inc. (ADI) has introduced the AD9164 D/A converter that offers high-resolution radar images for designers of military and commercial radar while reducing solution component count. Additionally, for designers of precision instrumentation equipment, such as smartphone testers, the new device ensures improved accuracy as well as speed of test, contributing to faster market-ready time while significantly decreasing tester complexity and size. Thanks to its audio to 6 GHz frequency coverage, the AD9164 D/A converter moves the tester market one step closer to a universal wireless test platform.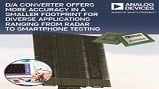 The reduction in solution component count and thus size enables element- level digital beamforming advanced radar solutions. With the same performance specifications as the already-released AD9162, the AD9164 D/A converter also includes an on-chip direct digital synthesizer (DDS) that ensures phase-coherent fast frequency hopping of less than 300 ns for up to 32 different frequencies. This makes the AD9164 D/A converter well suited for testing anything from AM broadcast band or Japanese FM band, to 5.8 GHz UNII band.
The AD9164 converter operates over a baseband mode of DC to 2.5 GHz, a normal mode of DC to 6 GHz, and a mixed mode of 1.5 to 7.5 GHz. It features a 2x interpolator (FIR85), which enables configurability for lower data rates and converter clocking to reduce overall system power and ease filtering requirements. In mixed-mode operation, this D/A converter can be configured to reconstruct RF carriers in the 2nd and 3rd Nyquist zones up to 7.5 GHz while maintaining exceptional dynamic range.
The AD9164 also comes with a unique remote evaluation tool, allowing designers to "test-drive" the D/A converter's performance. The remote tool is available at
http://labs.analog.com/ad916x
.
The device is priced at $295 each in an 8 x 8 mm or 11 x 11 mm chip-scale BGA, or $334 each in an 11 x 11 mm lead-free chip-scale BGA.