New technology for synthesizing and deploying graphene promises to improve the durability and performance of electrical circuits incorporated into wearable and flexible electronics.
The low-temperature plasma-enhanced chemical vapor deposition (PECVD) method devised by researchers from California Institute of Technology and the Industrial Technology Research Institute (Taiwan) produces high-quality graphene sheets, only one atom thick, at room temperature in about 15 minutes.
The approach described in ACS Applied Nano Materials avoids the need for high temperatures and harsh chemicals that are typically used to grow graphene sheets, making it suitable for use with delicate electronic components and polymer materials. Graphene can thus be grown directly on the substrates at a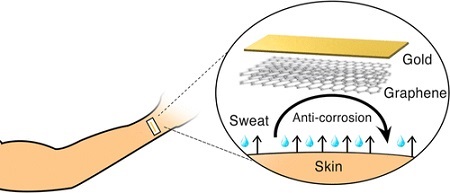 Source: ACS Appl. Nano Mater. 2022, 5, 3, 4343–4349 low temperature, preventing any damage to sensitive materials. A plasma ray is activated to dissociate methane, serving as the carbon source, into reactive species, enabling carbon deposition onto the surface of the electrical components.
Copper structures coated with the PECVD-produced graphene could be folded 200,000 times without damage, as compared to the original copper structures, which started cracking after 20,000 folds. The results demonstrate that graphene can help create flexible electronics with longer service life.
The researchers also confirmed that gold coated in graphene could better withstand the sweat of the wearer. As graphene slows the rate at which gold is corroded, its use would enhance the stability of implantable biosensors.