Engineers at Columbia University, Massachusetts Institute of Technology and Disney Research have come up with a new way of controlling sound waves. Their new approach focuses on designing acoustic filters capable of fitting inside an ordinary 3-D shape while achieving target sound-filtering properties.
To achieve this, the team, led by Changxi Zheng, Computer Science Professor at Columbia University, created acoustic voxels—small, hollow, cube-shaped chambers through which sound enters and exits, as a modular system. The researchers compare the voxels to Lego bricks, which can be connected to form an infinite number of structures. Their internal chambers allow them to modify the acoustic filtering property of the structure, in effect changing the number and size of the structures, as well as how they connect, to alter the acoustic result.
"In the past, people have explored computational design of specific products, like a certain type of muffler or a particular shape of trumpet," said Zheng. "The general approach to manipulating sound waves has been to computationally design chamber shapes. Our algorithm enables new designs of noise mufflers, hearing aids, wind instruments, and more—we can now make them in any shape we want, even a 3-D-printed toy hippopotamus that sounds like a trumpet."
According to Zheng, the team's design proposes a new way to use acoustic filters, allowing for the embedding of information directly into the sound.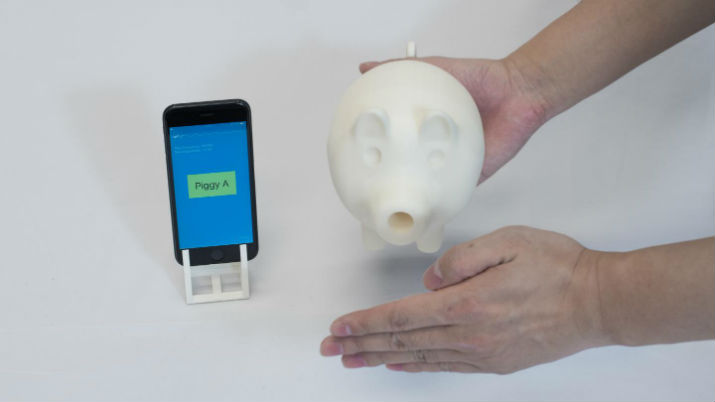 By enhancing the structure of acoustic voxels, researchers controlled the acoustic response of an object when it is tapped and as a result, tagged the object acoustically. Given three objects with identical shapes, engineers can use a smartphone to read the acoustic tags in real-time. (Image Credit: Changxi Zheng/Columbia Engineering)
"We also have proposed a very intriguing new way to use acoustic filters: we can use our acoustic voxels as acoustic tags, unique to each piece we 3-D-print, and encode information in them. This is similar to QR codes or RFIDs, and opens the door to encoding product and copyright information in 3-D printing," he said.
Previously Zheng and his team used computational methods to design and 3-D-print a zoolophone, a xylophone-type instrument with keys in the shape of zoo animals. The zoolophone displayed insight into vibrational sound control. Here, the team came up with a way to enable better design for manipulating acoustic propagation of many products, such as car mufflers and instruments.
"With 3-D printers today, geometric complexity is no longer a barrier. Even complex shapes can be fabricated with very little effort," said Zheng. "So the question is: can we use complex shapes to improve acoustic properties of products?"
The team developed a new algorithm that allowed them to assemble the acoustic voxels, similarly to Lego bricks, into structures to produce the targeted acoustic-filtering properties.
Their new development could lead to acoustic tagging to uniquely identify a 3-D-printed object and acoustic encoding to implant information (like a copyright) into an object's very form, an entirely different direction than Zheng and the team intended.
Because acoustic filters work by manipulating sound waves and the acoustic voxels have given the team a way to exactly control that manipulation, a unique voxel assembly produces a unique acoustic signature.
Therefore, even if two objects have the exact same exterior appearance, if their hollow interiors contain different voxel assemblies, each object, when filtering a sound wave, produces a sound unique to that object. The researchers recorded the sound made by objects with different voxel assemblies and used an iPhone application they developed to identify each object.
According to the group, this kind of acoustic tagging could be valuable for use in QR codes and RFID tags, which entail operations entirely separate from manufacturing.
If manufacturers can integrate identification information directly into the object, they could potentially save time, effort and the expense of individual labels on parts. Acoustic tagging could also encode copyrighted originals, such as 3-D-printed figures from artists or major brands like Disney or Marvel.
"We are investigating some of the intriguing possibilities of ultrasonic manipulation, such as cloaking, where sound propagation can be distorted to hide objects from sound waves. This could lead to new designs of sonar systems or underwater communication systems. It's an exciting area to explore," said Zheng.