Vishay Intertechnology, Inc. has introduced a series of sulfur-resistant thick- film chip resistors with silver/palladium (Ag/Pd) terminations for conductive gluing. Designed for automotive and industrial applications, the AEC-Q200-qualified Vishay Draloric RCA-AP e4 series devices provide advanced sulfur resistance and high operating temperatures up to +175° C.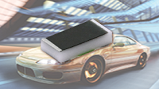 Draloric?RCA-AP e4?series thick-film chip resistors. Source: VishayFeaturing a unique flip-chip design, the space-saving resistors released today offer a reduced package footprint compared to solderable devices, while delivering low parasitic capacitance and inductance. For high-sulfur environments, the RCA-AP e4 series features a sulfur withstand ability in accordance to ASTM B809-95, tested at an advanced level of 90° C for 1,000 hours. The devices are optimized for hybrid circuit applications in high-temperature environments.
RCA-AP e4 series resistors are available in the 0603 case size and offer power ratings to 0.15 W at +70° C. The RoHS-compliant, halogen-free devices provide a resistance range from 1 Ω to 10 MΩ with tolerances of ± 1% and ± 5%, TCR of ± 100 ppm/K and ± 200 ppm/K, and an operating voltage of 75 V.
Samples and production quantities of the RCA-AP e4 series are available now, with lead times of 10 weeks.