LG Innotek is in development of concept textile flexible pressure sensors that will be able to measure the level of an external force, even if the surface is bendable.
Pressure sensors are used in applications such as medical appliances and automobiles to gauge and analyze pressure. However traditional pressure sensors, because they are made of PCB substrates or PET films, are inherently difficult to bend or deform. As a result, traditional pressure sensors make it difficult to measure pressure uniformly over a large area.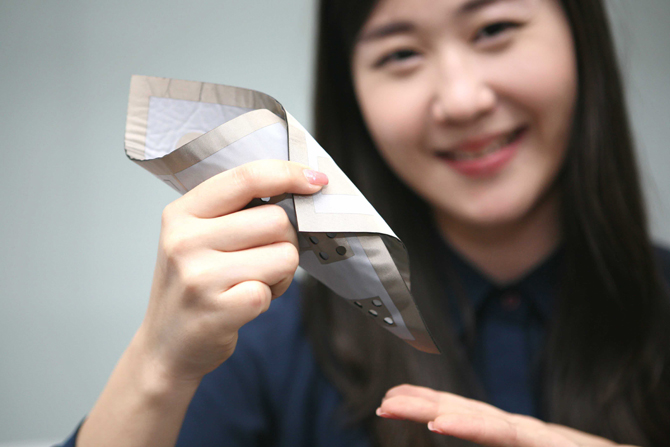 The concept pressure sensors could be used for anything from gloves or chairs, to sports measuring or advances in telemedicine. Source: LG Innotek LG says its concept flexible pressure sensors are made of a highly elastic polyurethane material that fits comfortably on the body and measures face pressure distribution by sensing capacitance change caused by pressure. These sensors could be used in products such as gloves or chairs that come in direct contact with the human body.
How It Works

The polyurethane material is sensitive to pressure with great elasticity that is inserted between the electronic fibers. When an external force is applied, the electric poles inside the fiber detect the deformation to determine the pressure, LG says. The concept pressure sensors are durable in various environments because they function from 40° below zero to 80° degrees above zero, and have an operation of more than 240 hours.
The sensors could also be used in healthcare in the area of telemedicine where accuracy is essential. For example, the sensor would be able to detect body balance and acting patterns on a patient when walking, and then send the information to a medical center.
In the sports gear industry, the pressure sensor could give users detailed or improved training. In the automotive industry, the sensor could be used for safety by automatically correcting the height of a car seat or the pressure of an airbag.
To contact the author of this article, email engineering360editors@ihs.com