Retired United States Air Force Colonel Gene Lee possesses extensive aerial combat experience as an instructor and air battle manager, along with significant fighter aircraft expertise, but he was recently beat in an air-combat simulator by a computer.
A University of Cincinnati doctoral graduate, Nick Ernest, recently developed the artificial intelligence, called ALPHA, which proved to be, "the most aggressive, responsive, dynamic and credible AI" that Colonel Lee had ever seen.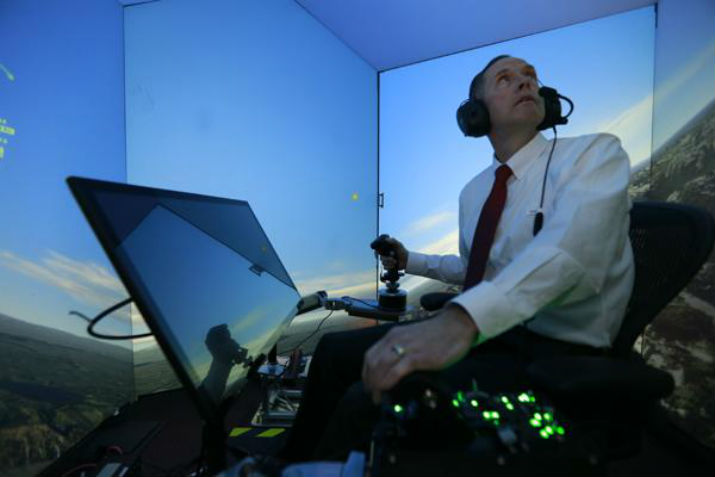 Retired United States Air Force Colonel Gene Lee, in a flight simulator takes on ALPHA. (Image Credit: Lisa Ventre/University of Cincinnati)ALPHA is currently being used as a research tool for manned and unmanned teaming in a simulation environment. In early versions ALPHA consistently outperformed a baseline computer program that was being used by the Air Force Research Lab for research.
After overcoming other AI opponents, ALPHA took on Colonel Lee.
Not only was Lee not able to score a kill against ALPHA after repeated attempts, he was shot out of the air every time during protracted engagements in the simulator.
Since then, ALPHA has repeatedly bested other experts as well, and is even able to win out against human experts when its aircraft are deliberately handicapped in terms of speed, turning, missile capability and sensors.
"I was surprised at how aware and reactive it was. It seemed to be aware of my intentions and reacting instantly to my changes in flight and my missile deployment. It knew how to defeat the shot I was taking. It moved instantly between defensive and offensive actions as needed," said Lee, who has been flying in simulators against AI opponents since the early 1980s.
When up against most AI systems, an experienced pilot can typically best the AI program overall, even if he or she gets shot down once in a while.
"Until now, an AI opponent simply could not keep up with anything like the real pressure and pace of combat-like scenarios," added Lee.
How can AI benefit future combat?
The overall goal of ALPHA, according to Ernest, is to, "continue developing ALPHA, to push and extend its capabilities, and perform additional testing against other trained pilots."
As more of a long-term goal, pairing AI with USAF air capabilities can transform air combat by training pilots with more precision than ever.
"After all, today's fighters close in on each other at speeds in excess of 1,500 miles per hour while flying at altitudes above 40,000 feet. Microseconds matter, and the cost for a mistake is very high," said Ernest.
Psibernetix, Inc., recently founded by Ernest, now president and CEO of the firm, and David Carroll, programming lead, eventually wants to use ALPHA to lessen the likelihood of mistakes since its operations already occur significantly faster than those of other language-based consumer product programming.
ALPHA can take all of the sensor data and organize it to create a complete mapping of a combat scenario and make or change decisions for four fighter aircraft in less than a millisecond. According to the creators, the AI is so fast that it could consider and coordinate the best tactical plan and precise responses, within a dynamic environment, over 250 times faster than a human opponent could blink.
ALPHA sets the stage for future pilots to come along with AI wingmen.
"ALPHA would be an extremely easy AI to cooperate with and have as a teammate. ALPHA could continuously determine the optimal ways to perform tasks commanded by its manned wingman, as well as provide tactical and situational advice to the rest of its flight," said Kelly Cohen, UC aerospace professor.