Texas Instruments Inc. (TI) has rolled out a resolver sensor interface with integrated power supply, exciter amplifier and functional safety features for next-generation automotive vehicles.
The PGA411-Q1 sensor interface can excite the resolver sensor coil and calculate the angle and velocity of rotating motor shaft simultaneously without the use of external components. The device can be used by automotive designers to increase the system accuracy and stability for end equipment such as hybrid electric vehicles/electric vehicles traction inverters, electric power steering, integrated start-stop generators, industrial alternating current servo motor control and robotic arm control.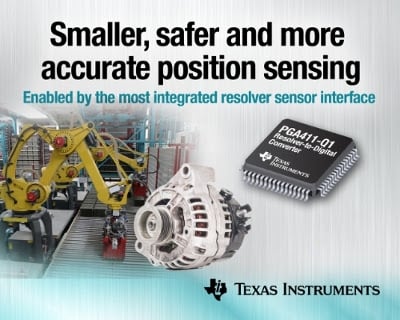 TI's PGA411-Q1 resolver sensor interface saves automotive design space by as much as 50% by eliminating at least 10 external and passive components. Source: TI TI says the PGA411-Q1 can save space by as much as 50% in automotive designs by eliminating at least 10 external and passive components. The device features an integrated built-in-self-test that performs an analog and logic component self-check automatically upon startup. The sensor interface also provides for automotive system stability over voltage, under voltage and thermal protections, including separation of the high-current and high-voltage blocks from other parts of the device that are highly susceptible to damage.
The PGA411-Q1 is available now in a 64-pin enhanced thin quad flat pack package starting at $12.96 in 1,000-unit quantities.
To contact the author of this article, email engineering360editors@ihs.com