Many research labs are working to develop robots that are more cooperative and that can perform tasks along with humans. In order to create robots with this kind of skill-set, they are opting to make them softer and safer.
Now, a team of engineers led by George Whitesides, Ph.D., from Harvard's Wyss Institute for Biologically Inspired Engineering, has created a new kind of actuator that generates movements that are similar to the ones of human skeletal muscles by using vacuum power.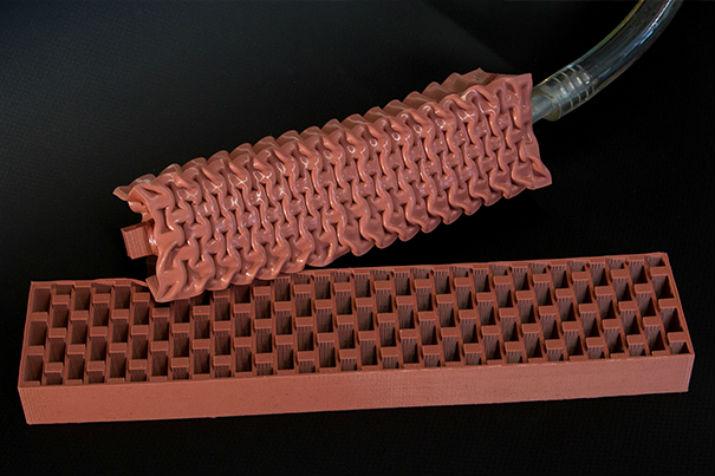 VAMPs are shown actuated and cut open in cross section. The cross section shows the inner chambers that collapse when vacuum is applied. (Image Credit: Wyss Institute at Harvard University)
The newly developed actuators, like human muscles, are soft, shock absorbing, and are not a danger to the environment or any other humans that are working around them.
"Functionally, our actuator models the human bicep muscle," said Whitesides. "There are other soft actuators that have been developed, but this one is most similar to muscle in terms of response time and efficiency."
To create the actuator, the team relied on a vacuum to decrease its volume and make it buckle. In traditional engineering, buckling would be considered a sign of mechanical instability and a point of failure, but in this case the team leveraged this instability to develop VAMPs (vacuum-actuated muscle-inspired pneumatic structures).
Other soft actuators rely on pressurized systems that expand in volume, but VAMPs mimic true muscle because they contract.
The actuator is comprised of soft rubber or 'elastomeric' beams and is filled with small, hollow chambers of air like a honeycomb. By applying vacuum the chambers collapse and the entire actuator contracts to create the movement. The internal honeycomb structure can be custom tailored to enable linear, twisting, bending, or combinatorial movements.
"Having VAMPs built of soft elastomers would make it much easier to automate a robot that could be used to help humans in the service industry," said Dian Yang, who was a graduate researcher pursuing his Ph.D. in engineering sciences at Harvard during the time of the work, and is now a Postdoctoral Researcher.
According to the Harvard team, robots that are equipped with VAMPs could assist the disabled or elderly, serve food, deliver items, and perform other service-related tasks. Soft robots could also make industrial production lines safer and faster, the team says.
So far, no complex control system has been developed for VAMPs, but this type of actuation is easy to control because, very simply, when vacuum is applied, VAMPs will contract.
VAMPs are designed to prevent failure. Even when damaged with a 2 mm hole, the team proved that VAMPs will still function, and if major damage is caused to the system, it will fail safely.
"It can't explode, so it's intrinsically safe," said Whitesides.
Actuators that are powered by electricity or combustion, which could fail and cause damage to humans or their surroundings. But a loss of vacuum pressure in VAMPs would just cause the actuator to be motionless.
"These self-healing, bioinspired actuators bring us another step closer to being able to build entirely soft-bodied robots, which may help to bridge the gap between humans and robots and open entirely new application areas in medicine and beyond," said Donald Ingber, M.D., Ph.D., Wyss Founding Director.