The "new normal" for the PC industry may well be decelerating demand, as suppliers to the market are discovering. The growth rate for memory in PCs this year, for example, will hit its slowest point since its peak in 2007, according to market research firm IHS
The average growth in dynamic random access memory (DRAM) content will decline to 17.4 percent this year, following a 21.4 percent increase in 2012, IHS reports. This compares with the high point of 56.1 percent in 2007, and 49.9 percent in 2008.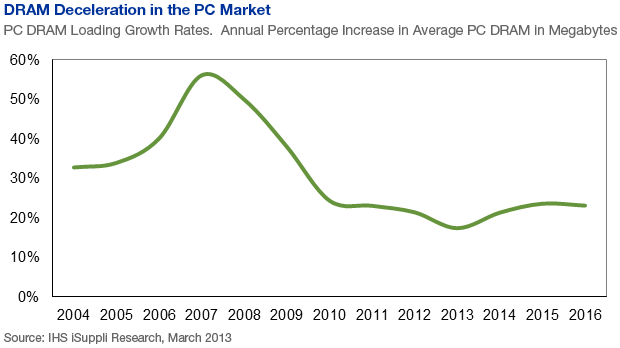 PC owners are upgrading their devices less often as the capability of PCs has plateaued, explained Clifford Leimbach, memory analyst at IHS. "For a generation, PCs have steadily improved their hardware performance and capabilities every year, with faster microprocessors, rising storage capacities and major increases in DRAM content," he said. "These improvements—largely driven by rising performance demands of new operating system software—have justified the replacement cycle for PCs, compelling consumers and businesses to buy new machines to keep pace. However, on the DRAM front, the velocity of the increase has slackened. This slowdown reflects the maturity of the PC platform as well as a change in the nature of notebook computers as OEMs adjust to the rise of alternative systems—namely smartphones and media tablets," Leimbach said.
All told, PCs no longer need to add DRAM content as much as they did in the previous times, when failure to increase memory content in either desktops or laptops could have resulted in a direct impediment to performance. DRAM has become less of a bottleneck in PC performance, tempering the need to increase DRAM bits in each system to ostensibly improve system speed.
Moreover, a change in PC operating system requirements has had the effect of limiting growth in DRAM loading. The latest version of Windows, in particular, has not required a step up in DRAM content, unlike previous Windows system versions where increased DRAM loading was explicitly required for desktops to avail of optimal performance that came with a new OS.
This doesn't mean that people will stop using personal computers, or even necessarily that the PC market will stop expanding, Leimbach added. "What the post-PC era does mean is that personal computers are not at the center of the technology universe anymore—and are seeing their hegemony over the electronics supply chain erode."