Mouser Electronics, Inc. has been named the 2015 eCommerce Distributor of the Year by Bourns, Inc. for the second consecutive year. The prestigious award was presented at the recent 2016 Electronic Distribution Show (EDS), the premier electronic components distribution show held yearly in Las Vegas.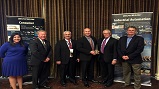 Bourns executives honor Mouser for e-Commerce distribution. Source: MouserMouser received the award for helping Bourns achieve exceptional sales growth in North America despite a challenging market, as well as for Mouser's best-in-class marketing activities and field engagement. Mouser has been an authorized distributor for Bourns for 16 years and continues to be a leading partner in offering Bourns's newest products.
Mouser stocks a complete range of Bourns® products, including circuit protectors, sensors, controls, and resistive components. Bourns is known for their innovative development of new technologies and the ability to consistently expand manufacturing capabilities to meet their customers' changing global needs.  
"We are excited that our creative marketing programs, broad inventory profile, and close working relationships resulted in strong growth with Mouser in," said James Harrington, Bourns vice president of sales for the Americas, in a statement. "We congratulate the Mouser team on receiving our e-Commerce Distributor of the Year award in 2015 for the second year in a row."
 Mouser also received this award in 2015 and 2013 (for 2014 and 2012 top performance, respectively). In recent years, Mouser has been awarded both the European Distributor of the Year POS Growth Award and the Asia Distributor of the Year POS Growth Award from Bourns. The awards were based on overall percent POS growth for European and Asia sales. Mouser had the highest growth percentage year over year for all of Bourns's catalog distributor partners.