Pasternack has introduced the
PEM009-KIT 60 GHz development system
, which offers designers the ability to perform product development and experimentation of single and multi-carrier high- bandwidth modulation covering 57 to 64 GHz in the globally unlicensed ISM frequency spectrum.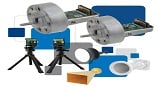 Applications include baseband development up to 7 Gbps data rates using WiGig/WiFi 802.11ad and 802.11aj IEEE standards, GigE wireless LAN, FMCW Radar, uncompressed HD video, RFID, radiometry, remote sensing and campus networks.
The PEM009-KIT 60 GHz development system incorporates the use of compact and innovative Transmit (PEM001-MIM) and Receive (PEM002-MIM) WR-15 waveguide modules that utilize SiGe BiCMOS semiconductor technology. These modules are controlled by integrated Rx and Tx circuit board assemblies that provide processing functions and power supply regulation, and include reference crystal oscillators. These oscillators offer much improved phase-noise performance that results in enhanced signal-to-noise ratio and receiver sensitivity. The Rx and Tx circuit boards can also be phase locked to an external reference source. Command-control functions are made via a USB interface with a host PC running GUI software.
The PEM009-KIT 60 GHz development system supports various I/Q (vector) and FSK/MSK modulation schemes from a user-designed baseband system or from a vector-modulated programmable Arbitrary Waveform Generator. The system is configured as a standalone bench top wireless link where transmitted power directly from the waveguide aperture is equivalent to a 7 dBi gain horn antenna with a 70°-wide beam pattern that is useful to test and demonstrate various modulation schemes and data rates. 
Transmission over longer distances is also possible by utilizing Pasternack WR-15 gain horn antennas (Models: PE9881-20, PE9881-24, PE9881-34 and PE9881-42) that have calculated system link distances ranging from three meters to 500 meters.
The PEM009-KIT 60 GHz development system, 60 GHz Tx and Rx waveguide modules and accessories are in stock and available to ship from Pasternack now.