Power Integrations has announced a family of galvanically isolated single-channel gate driver ICs ranging in output current from 2.5 A to 8 A—the industry's highest output current without an external booster, according to the company.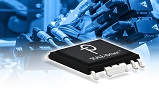 Power Integrations's SCALE-iDriver™ ICs. Source: Power Integrations

SCALE-iDriver™ ICs, optimized for driving both IGBTs and MOSFETs, are the first products to bring Power Integrations's pioneering FluxLink™ magneto-inductive bi-directional communications technology to 1200 V driver applications. FluxLink™ technology eliminates the need for unreliable opto-electronics and the associated compensation circuitry, thereby enhancing operational stability while reducing system complexity.

The gate drivers incorporate advanced system safety and protection features commonly found in medium- and high-voltage applications, further enhancing product reliability. The eSOP package features 9.5 mm of creepage and a CTI of 600, ensuring substantial operating voltage margin and high system reliability.

The ICs reduce component count for inverters up to 110 kW, saving space and BOM cost and increasing design flexibility. With the addition of a simple, low-cost booster stage, it is now far quicker to develop efficient, space-saving, reliable inverter designs rated up to 400 kW (15 A). The devices meet IEC 60664-1 and IEC 61800-5-1 standards, and operate from -40° C to +125° C and at frequencies of up to 250 kHz. They also feature Power Integrations's Advanced Soft Shut Down (ASSD) mechanism that protects the power semiconductor switch in the event of a short circuit. ASSD is automatically triggered by monitoring desaturation levels and requires no extra components.

The gate driver ICs suit applications in industrial drives, power supplies and UPS, photovoltaic inverters of all sizes, industrial HVAC, EV charging and traction equipment, including commercial EVs. SID1132K (2.5 A), SID1152K (5 A) and SID1182K (8 A) devices are available and priced at $2.57 in 10,000-piece quantities. Reference designs are available from the Power Integrations website.