Those suffering from arachnophobia may want to steer clear of this because it is nightmare fuel. Two words: Robot spiders.

Researchers at Siemens Corporate Technology Princeton labs have developed prototype spider-like robots that can be used like 3-D printers to print structures and surfaces accelerating so-called mobile manufacturing that could lead to the production of large-scale, complex structures being built such as fuselages for planes and the hull of a ship.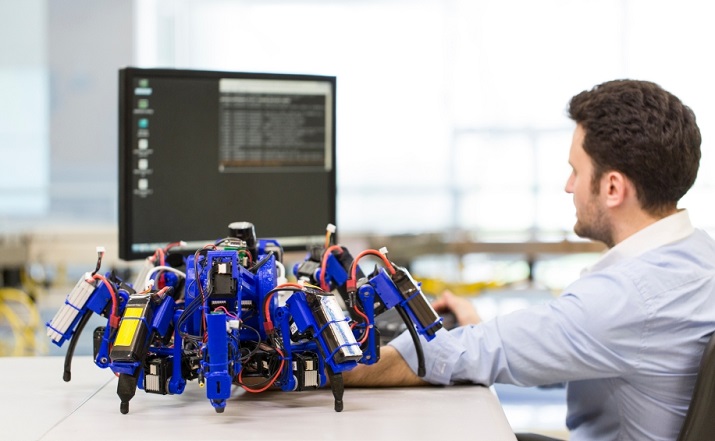 Spider robots could work collaboratively to use 3-D printing to manufacture a wide range of large-scale structures. Source: Siemens Known as SiSpis, or Siemens Spiders, the robots can deposit a thick, sticky material that dries on contact into a smooth, shiny finish. Additive manufacturing is an aspect of 3-D printing where the products or surfaces are created and refined by depositing layer after micro-layer of a selected material.

One spider may not be able to handle the manufacturing of something the size of a ship's hull but Siemens is designing these spiders to work collaboratively in order to create something of considerable size. The robots work in conjunction through algorithms developed by Siemens' team to allow multi-robot task planning so that two or more devices can work on the additive manufacture or surface processing of a single object or area, the company says.

According to Livio Dalloro, head of the product design, modeling and simulation research group in the automation and control technology field at Siemens Corporate Technology, the robot spiders are just one part of the research into autonomous systems the company is examining.
"We are looking at using multiple autonomous robots for collaborative additive manufacturing of structures, such as car bodies, the hulls of ships and airplane fuselages," said Dalloro.

In order to accomplish the collaborative autonomous manufacturing, the spider robots use cameras and a laser scanner to determine its location and knowing the range of the 3-D printer arm, each robot works on a particular area while others use the same technique to cover other areas. The robots work together, even over complex geometries, in such a way that no box is missed.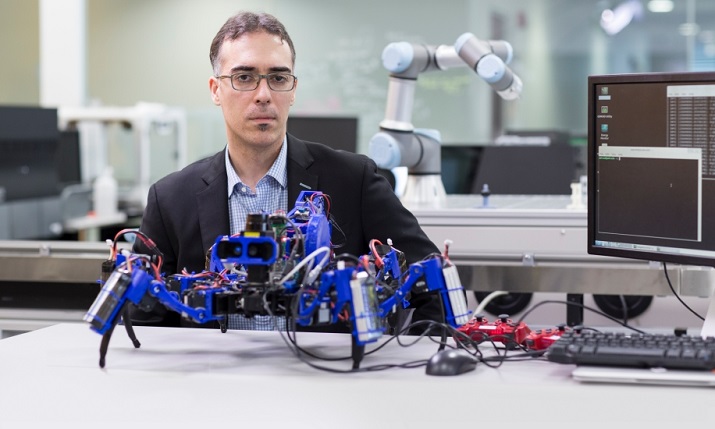 Using algorithms developed by Livio Dalloro's team at Siemens Corporate Technology Princeton labs, multi-robot task planning of two or more devices that can work on a surface of a single object or area is accomplished. Source: Siemens Siemens says the key to the spiders is autonomy. The spiders will find their way back to a recharging station when their batteries are low but not before transmitting data to another spider to pick up where it left off in the manufacturing. The robot spiders are also designed to find alternative pathways in their work area if a path is blocked.

Siemens created the robots in-house with the exception of the mini motors and cables, which were off-the-shelf products. When the company designed a spider component in the virtual world, it created it in the real world using 3-D printing. Siemens says with the autonomous nature of the devices along with the minimum programming requirements, once the technology is mature it could be used for manufacturing outside of large-scale projects and into almost anywhere addictive mobile manufacturing can be used.

To contact the author of this article, email engineering360editors@ihs.com