For the fifth straight year, Mouser Electronics, Inc. will sponsor the FIRST Robotics Competition at the FIRST Hall of Fame exhibit (For Inspiration and Recognition of Science and Technology) Championship, to be held April 27 through 30 at The Dome at America's Center in St. Louis.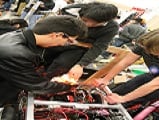 FIRST?Robotics Competition Hall of Fame exhibit at the?FIRST?Championship, sponsored by Mouser.
Mouser will continue its sponsorship at the Hall of Fame exhibit at the championship event with valued suppliers TE Connectivity and Murata. Making appearances with Mouser will be celebrity engineer and Empowering Innovation Together™ partner Grant Imahara.  
The mission of FIRST is to inspire young people to be leaders in science and technology through exciting mentor-based programs that build science, engineering and technology skills. FIRST programs inspire innovation and foster well-rounded life capabilities, including self-confidence, communication and leadership.
"Since our founding more than 50 years ago, we have been dedicated to inspiring young people's interest in science and technology, and we are proud to once again sponsor a program that supports the brightest young minds and future engineers," said Kevin Hess, Mouser's Senior Vice President of Marketing, in a statement. "The FIRST Championship shines the spotlight on creative students from the U.S. and around the world who are solving real-world engineering challenges with their robots."
The FIRST Robotics Competition Hall of Fame exhibit at the FIRST Championship—sponsored by Mouser, TE Connectivity and Murata—highlights the past recipients of the Chairman's Award, the highest honor awarded in FIRST Robotics competitions. Instead of awarding the Chairman's Award to the team that earns the most points in the competition, FIRST honors the team that best exemplifies the goals and values of FIRST.
Mouser also donates electronic components to FIRST students through a partnership with the Electronic Components Industry Association. Each FIRST Robotics Competition team receives a kit of parts, including motors, batteries, a control system, a PC and a mix of automation components— with no instructions. Teams have six weeks to transform their kits into working robots designed to perform specific tasks.