Vishay Intertechnology has introduced a tantalum-cased wet tantalum capacitor with a glass-to-tantalum hermetic in a compact 9 mm by 7.1 mm by 7.4 mm C case code. For avionics and aerospace systems, the T22 combines a reverse voltage of 1.5 V at +85 °C with increased thermal shock capability of 300 cycles in a surface-mount package.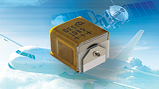 Vishay T22 wet tantalum capacitor. Source: Vishay
As a replacement for axial leaded through-hole capacitors, the device reduces PCB space requirements, while providing a more reliable alternative to SMD devices for timing, filtering, energy hold-up and pulse power applications in power supplies for space and avionics equipment. Featuring a high-reliability design, the capacitor offers high vibration (sinusoidal: 50 g; random: 27.8 g) capability.
The T22 features voltage ratings from 50 VDC to 125 VDC, capacitance from 10 µF to 68 µF, and capacitance tolerance of ± 10 % and ± 20 % standard. The device operates over a temperature range of -55 °C to +85 °C, to +125 °C with voltage derating, and provides maximum ESR down to 1.50 Ω at 120 Hz and +25 °C. The capacitor features standard tin/lead terminations, with RoHS-compliant 100% tin terminations available.
Samples and production quantities of the T22 are available now, with lead times of 10 weeks for larger orders.