A team of researchers from Eindhoven University of Technology (TU/e) may have stumbled upon a discovery that could lead to using a computer without even starting it up. What makes this possible? Magnetic memory, or MRAM (Magnetic Random Access Memory), which stores data by making use of "spin" electrons, which act as a guide and compass inside of the particles.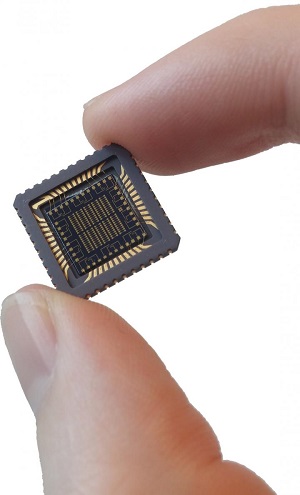 This image shows the experimental chip the researchers used for their measurements. (Image Credit: Arno van den Brink / Eindhoven University of Technology)
Since magnetism is used in place of electrical charge, the memory becomes permanent – even in the event of a power outage, which means a computer wouldn't even need to be turned on to work. The magnetic memories use less power, which could even allow cellphones to run even longer on their batteries.
Up until now, it was thought that switching these bits would require too much energy to ever create a functional and practical product. However, the researchers have solved the problem by implementing a "bending current."
How it works
In a MRAM bits are projected by the direction of the spin of the electrons in a piece of magnetic material. Data is stored by flipping the spin of the electrons over to the correct side. Normally, an electrical current which contains electrons with the required spin direction would be sent through the bit, but this requires an enormous amount of electrical current.
TU/e physicists, led by professor Henk Swagten, created the new method which would flip the magnetic bits faster and more energy-efficiently by sending a current pulse under the bit, which bends the electrons at the correct spin upwards, and through the bit.
"It's a bit like a soccer ball that is kicked with a curve when the right effect is applied," said Arno van den Brink, TU/e PhD student and the first author of the article.
According to the researchers, the new memory is fast, but it needs some further work to make the flipping reliable. The researchers are working toward reliability by applying a special anti-ferromagnetic material on top of the bits, which would enable the requisite magnetic field to be frozen.
"This could be the decisive nudge in the right direction for superfast MRAM in the near future," said to Van den Brink.