It has been a busy 2016 Mobile World Congress for STMicroelectronics. The Swiss-based electronics vendor has been issuing many statements regarding its upcoming line of mobile products that dabble in the Internet of Things (IoT), near field communication (NFC), smart and autonomous driving and cyber security.
In order to serve what ST claims will be 150 to 250 million connected cars on the roads by 2020, the company has introduced two new secure microcontrollers—the ST32G512A and ST33G1M2A—to provide security to the next-generation of connected cars. With vehicles having more software updates, service packs, location-based information, social media, streaming entertainment and emergency support, the chance of Internet-based attacks in the vehicle grows.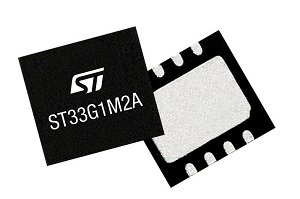 ST's secure microcontrollers allow for added security features to Internet connected vehicles. Image source: STMicroelectronics
ST says these secure microcontrollers handle authentication in a similar way to a smartphone SIM with added security elements to prevent attacks on the engine control units (ECUs) and gateways.
In a similar move, ST has also introduced the first microprocessors of its SPC57 family designed for entry-level vehicle safety-critical applications including airbags, anti-lock braking systems in cars and motorcycles, and power steering and DC/DC converters/inverters in hybrid/electric vehicles. With consumers adopting more smarter cars, key functions need to be protected against random failures such as those caused by a single cosmic ray changing a bit in a memory cell, ST says. The SPC57 family of microprocessors is designed to protect vehicle functions with low-cost development paths, the company says.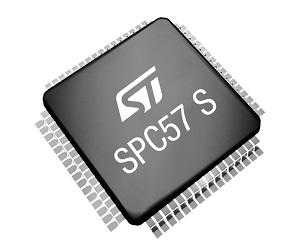 The SPC57 family will enable entry-level vehicles to have similar automotive safety features of higher priced cars. Image source: STMicroelectronics
Built on ST's 55nm automotive process technology with clock speeds up to 80MHz, the devices enable rapid development of safety-critical automotive systems in lower tier vehicles, ST says.
Finally on the automotive front, ST has added a long-range (77GHz) radar chip to its portfolio of advanced driver assistance systems (ADAS) for the enablement of next-generation features such as high-speed adaptive cruise control. The 77GHz radar transceiver is sampling with volume production slated to begin in March 2017.
Meanwhile, ST furthered its position in fingerprint authentication at Mobile World Congress by forming an agreement with Gemalto, Fingerprint Cards and Precise Biometrics to introduce what it claims is the first end-to-end security architecture for biometric fingerprint authentication for wearables and consumer electronics devices.
The joint effort will replace conventional username/password authentication for applications such as payment, eTicketing, digital access and 2-factor strong authentication with secure fingerprint recognition, ST says. The joint effort will be demonstrating its offerings on a smartwatch that embeds a fingerprint sensor from Fingerprint Cards, fingerprint software from Precise Biometrics and NFC and microcontrollers from ST.
Lastly on the NFC front, ST has signed an agreement with sensor and analog IC house ams AG to provide microcontroller intellectual property core vendor ARM with an NFC solution in a new wearable reference design. The NFC product uses ST's ST54E system-in-package featuring a NFC controller and a secure element along with ams' AS39230 NFC analog front-end chip. The NFC reference design works for wearable devices and smartphones where low battery power is needed.