Toshiba America Electronic Components Inc. (TAEC) has expanded its family of image recognition processors used in advanced driver assistance systems (ADAS) to help designers implement automotive safety applications with a small form factor.

The TMPV7602XBG features 13 hardware-based image recognition accelerators and is suitable for monocular cameras used typically in ADAS. These features will become part of the camera requirements for the European New Car Assessment Program in 2018 including autonomous emergency braking (AEB), traffic signal recognition (TSR), lane departure warning (LDW)/lane keeping assist (LKA), high beam assistance (HBA) and forward collision warning (FCW). Toshiba says the processor will also support newer applications such as traffic light recognition (TLR) and night-time pedestrian detection.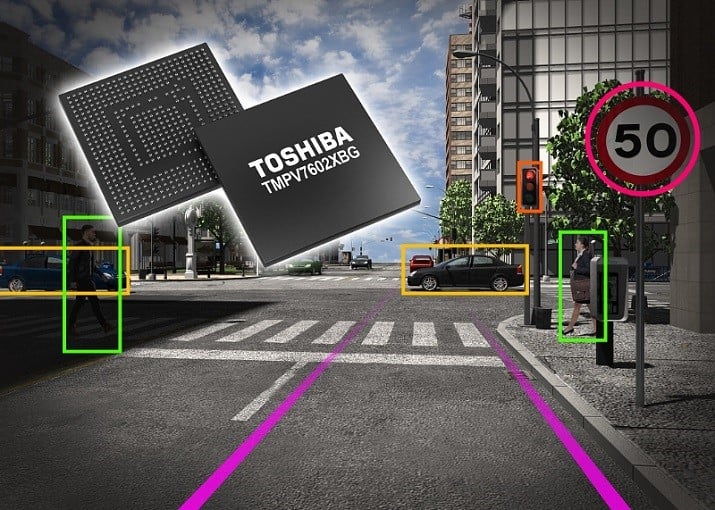 The processor includes 13 hardware-based image recognition accelerators for use in ADAS monocular cameras. Image source: Toshiba
Toshiba says the image recognition processor helps to ensure safe driving by identifying images in the vehicle's view such as pedestrians, traffic lights and signs, road markings and other vehicles. As most models of vehicles include at least a few ADAS options, the need for image recognition processors is growing and the company will continue to expand its portfolio as standards grow as well, Toshiba says.

Using a multi-core architecture, the TMPV7602XBG can handle multiple applications simultaneously in real time and with newly integrated image processing accelerators and media processing engines supported by floating point units, the processor can perform double precision floating-point arithmetic calculations, Toshiba says.