Maybe robots won't steal every human's job. Researchers are looking for ways to create human-robot harmony in the workplace by coming up with systems that would make them work better together, especially in situations where search-and-rescue was a factor.
When autonomous robots team up to perform a task, they will send each other constant updates about their location and next move. Researchers from MIT's Computer Science and Artificial Intelligence Laboratory (CSAIL) realize that this overload of information would be a little too much for humans, so they've come up with a new method of robotic collaboration that reduces the need for communication by 60 percent in order to create more efficient human-robot teams.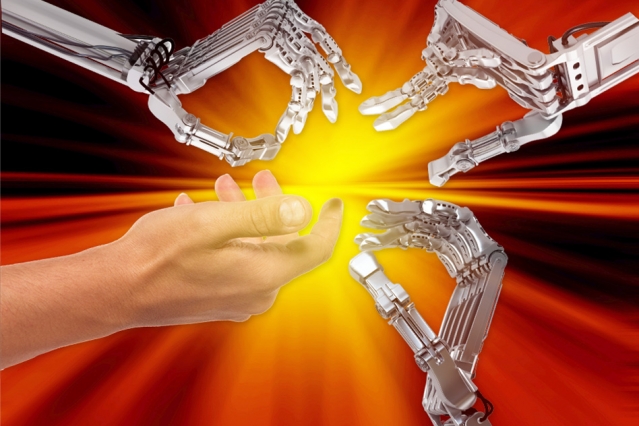 This new MIT communication system could make it easier to design systems for human-robot interaction working in teams. (Image Credit: Jose-Luis Olivares/MIT)
The researchers believe that the new model could make it easier to design systems that enable humans and robots to work together, for example, in emergency-response situations. "We haven't implemented it yet in human-robot teams," said Julie Shah, an associate professor of aeronautics and astronautics and one of the paper's two authors. "But it's very exciting, because you can imagine: You've just reduced the number of communications by 60 percent, and presumably those other communications weren't really necessary toward the person achieving their part of the task in that team."
Not only would the team's work create better human-robot teams, but it could also impact how much power and money autonomous robots consume. Communication consumes some power and the cost of processing new information could be a severe resource drain.
The system will need to carry out much of its mapping and processing while on-the-fly since it is designed for emergency situations that cannot be predicted beforehand. Once in an emergency setting, the robots will relay information to the human agents. For example, telling them that a passage is blocked. The humans then have three options: ignore the information, broadcast the information, or use and broadcast the information.
"What I'd be willing to bet, although we have to wait until we do the human-subject experiments, is that the human-robot team will fail miserably if the system is just telling the person all sorts of spurious information all the time," Shah says. "For human-robot teams, I think that this algorithm is going to make the difference between a team that can function effectively versus a team that just plain can't," said Shah.
The researchers are also working on a completely separate set of experiments using machine-learning algorithms for statistics on human communication patterns. They will apply everything they learned in this study to further the work on developing more efficient human-robot teams.