Ah, sunlight: Can't live with it; can't live without it.
It's well known that exposure to high levels of ultraviolet light can lead to skin cancer. But underexposure also has its risks, including unhealthily low levels of Vitamin D and seasonal effective disorder (SAD).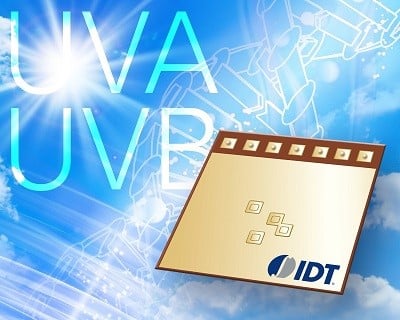 Integrated Device Technology's ZOPT2202 is a two-channel ultraviolet light sensor that measures both UVA and UVB. Image source: Integrated Device Technology, Inc.
Helping to find the "happy median," Integrated Device Technology (IDT) has introduced an ultraviolet light sensor small enough — and with low enough power consumption — to find a place in smart phones and wearable devices. It could also make "smart" devices even smarter by endowing mobile apps with indoor/outdoor context-awareness.
Developed by engineers at Zentrum Mikroelektronik Dresden AG (ZMDI) — the chipmaker recently acquired by IDT — the two-channel ZOPT2202 senses in both the UVA and UVB spectra.
Available in a compact 2 mm x 2.2 mm x 0.7 mm ODFN package, the ZOPT2202 senses UV levels ranging from 1 on the UV Index to greater than 11. The chip operates from a 1.7 V to 3.6 V supply voltage in temperatures ranging from -40 °C to 90 °C with temperature compensation to minimize the effects of temperature on its readings.
According to IDT, the ZOPT2202's package suppresses stray light while a proprietary filter process delivers stable response across varying angles of incidence.
The ZOPT2202 is available in production quantities.