Integrated Device Technology, Inc. (IDT) introduced a radio frequency (RF) switch that maintains a constant impedance on all ports during switching transitions. Covering a broad frequency range from 300 kHz to 8000 MHz, the IDT F2923 is a low insertion loss, single-pole, double-throw (SPDT) absorptive RF switch designed for a range of RF applications, including in 2G/3G/4G/5G cellular base stations, wireless back-haul, CATV, and portable hand-held devices.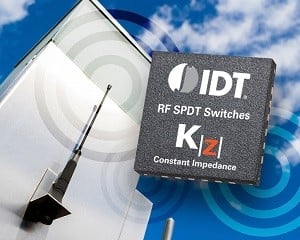 Integrated Device Technology's IDT F2923 features near-constant impedance during switching transitions. (Source: Integrated Device Technology, Inc.)IDT credits its patent-pending KZ constant-impedance technology with controlling all port impedances when switching between RF ports, preserving the return loss. The company says that standard switches in which impedance is not well controlled create a large voltage standing wave ratio (VSWR) transient when switching RF paths. A VSWR transient can degrade system performance and reduce reliability. IDT specifies the F2923's VSWR when switching from one RF port to another at less than 1.4:1 compared to 9:1 for standard switches — and notes that this VSWR performance is achieved without compromising isolation, linearity, or insertion loss.
According to IDT, its KZ controlled-impedance technology offers several benefits in different dynamic or "hot switching" scenarios, including:
Minimizing switched Tx/Rx Synthesizer pulling and recovery time in TDD systems
Avoiding damage and error-inducing transients when switching between two RF elements such as power amplifiers, drivers and low-noise amplifiers
Minimizing transient amplitude and phase error on the un-switched path(s) when switching a path of a distribution network such as a 3 dB coupler or 4-way splitter
At 2 GHz, the IDT F2923 presents just 0.48 dB insertion loss while providing 74 dB isolation. It has a third-order input intercept point (IIP3) greater than 66 dBm at the same frequency. Operating from a single positive supply voltage of 3.3 V, the device supports standard 1.8 V and 3.3 V control logic levels and comes in a 4 mm x 4 mm 20-TQFN package. The F2923 switch is sampling now.