Global distributor Mouser Electronics has decided to continue its Empowering Innovation Together program in 2016 with celebrity engineer and longtime Mouser customer Grant Imahara.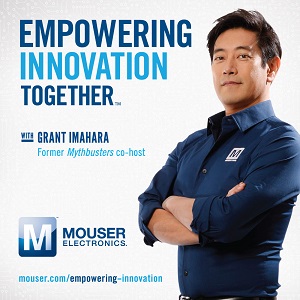 Grant Imahara Stars in the Empowering Innovation program. (Source: Mouser)
The 2016 Empowering Innovation Together program will create exclusive webisodes that feature unique content and highlight innovative engineers and visionaries from around the world. Similar to the videos launched in 2015, these video episodes will feature the newest products and technical expertise to help engineers speed their time to market — another way that Mouser connects to engineers through the innovation and creativity that defines engineering design.
Mouser will invite the engineering community on a journey to embrace technology and spur innovation through captivating educational programs, social media programs, and cutting-edge technology topics. Grant Imahara, a longtime Mouser customer and celebrity engineer known for his role on Mythbusters, will continue to play a key role in the program as spokesperson and innovator.
Mouser plans to introduce new topics while continuing the momentum and forward-thinking ideas already shared with the engineering community through its highly successful Robotics, Space Travel & Exploration, Home & Factory Automation and Driverless Cars series launched in 2015.