Semtech Corporation announced a galvanically-isolated intelligent power switch optimized to control low-voltage loads in home automation, building-control, security, and Internet of Things (IoT) applications including smart thermostats. The Neo-Iso TS13101 expands on the company's Neo-Iso isolated power switch platform, designed to replace electromechanical relays while protecting sensitive system circuitry from voltage surges and transients. The TS13101 switches resistive and inductive loads in circuits handling up to 60 V and 4 A.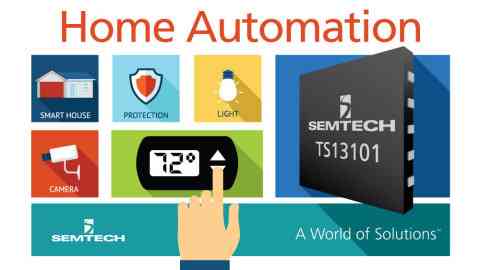 The Neo-Iso TS13101 expands on the company's Neo-Iso isolated power switch platform.
As solid-state devices, the switches in the Neo-Iso family are designed to completely avoid the audible "click" characteristic of electromechanical relays, while delivering a significantly faster 25 µs turn-on/turn-off time. Designers can control the switches from a system microcontroller using standard general-purpose input/output (GPIO) pins.
The TS13101 operates on 2.9V to 5.5V supplies compatible with standard microcontrollers. Its 5-10 µA primary current draw lets the TS13101 power itself by tapping energy from the load, avoiding the need for a secondary power source. Intelligence within the device provides fault and diagnostic data to the microcontroller, enabling more robust systems with a self-diagnostic capability.
Semtech highlights the TS13101's small physical size as another advantage over electromechanical relays, particularly for use in thin and compact IoT designs. The chip comes in a 4mm x 4mm x 0.8 mm RoHS and REACH-compliant QFN package.
Pricing and Availability
Available immediately in production quantities, the TS13101 (TS13101-QFNR) is currently priced at $0.83 each in 1,000-piece lots.