In order to further improvements to driver safety systems and in-vehicle infotainment, Renesas Electronics Corp. has introduced its third-generation R-Car automotive computing platform.
The R-Car H3 system-on-chip (SoC), which is the first in a series of devices that will be launched as part of the third-generation R-Car, is ISO 26262 compliant, features image recognition and CPU processing and comes in a system-in-package (SiP) with external memory for a wide range of automotive applications.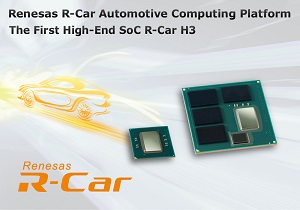 Renesas says its third-generation R-Car SoC will work in a wide range of automotive applications from safety to infotainment. (Source: Renesas)
Renesas says the R-Car H3 SoC exceeds the computing performance of the previous generation of devices and could play a key role in enabling autonomous driving in future vehicles.
On the automotive safety front, the R-Car H3 provides cognitive computing capabilities, a computing performance that can process large volumes of information from vehicle sensors accurately in real-time and allows for automotive system manufacturers to run applications that require complex processing such as obstacle detection, driver status recognition, hazard prediction and hazard avoidance.
In the infotainment segment, the need for connectivity between various systems and services such as smartphones and cloud services is growing, Renesas says. As a result, there is an increased demand for human-machine interface (HMI) computing to process these large amounts of data accurately and in real-time. Renesas says the R-Car H3 can provide the graphics needed to make advanced applications possible with a rich HMI.
The R-Car H3 is sampling with mass production scheduled to begin in March of 2018 with a volume of 100,000 units per month expected by March of 2019.