South Korean electronics giant Samsung Electronics Co. Ltd. has introduced what it claims is the world's first 128-gigabyte (GB) through silicon via (TSV) package double data rate 4 (DDR4) memory designed for enterprise servers and data centers.
Samsung says the TSV DRAM module boasts the largest capacity and the highest energy efficiency of any DRAM modules while operating at high speed. The RDIMM is comprised of a total of 144 DDR4 chips, arranged into 36 4GB DRAM packages, each containing four 20-nanometer-based 8 gigabit (Gb) chips assembled with TSV packaging technology.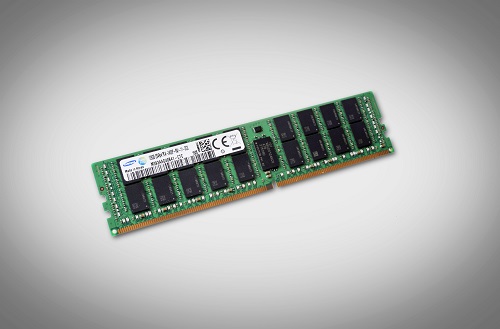 The 128GB TSV DDR4 RDIMM is designed for enterprise servers and data centers. Source: Samsung
In conventional chip packages, interconnect die stacks use wire bonding, but in TSV packages the chip dies are ground down to a few dozen micrometers, pierced with hundreds of fine holes and vertically connected by electrodes passing through the holes. This allows for a significant boost in signal transmission, Samsung says.
The result is memory that speeds up to 2,400 megabits per second (Mbps)—about twice the performance of the previous high capacity memory—while cutting power usage by 50%, Samsung says.
Samsung says its ramp up of TSV-based technology is in response to the growing demand in the server and data center space for ultra-high capacity DRAM and is working to quickly accelerate and improve manufacturing productivity in order to compensate for this demand. The Korean company says it will have further TSV DRAM introductions in the near future including modules with data transfer speeds of up to 2,667 Mbps and 3,200 Mbps to meet enterprise server needs.
To contact the author of this article, email engineering360editors@ihs.com