A recently-announced solid-state battery technology may enable manufacturers to deliver up to three times more energy than equivalent-sized lithium-ion (Li-ion) cell, while eliminating many of the durability and safety issues associated with conventional lithium-based energy sources. The technology, developed by Johnson Battery Technologies (JBT), Atlanta, GA, employs ceramic electrolytes instead of volatile liquid or gel electrolytes. "Our team has spent countless hours in the lab perfecting a battery technology that will truly change the game for safe energy storage across a variety of applications," states Dr. Lonnie Johnson, a former NASA scientist and JBT's CEO and Founder.
After producing several generations of prototype cells and delivering evaluation units to one of its affiliates, Johnson says that his company is ready to partner with industry and government customers to bring the batteries to the marketplace. Although JBT's initial target markets will be limited to micro-batteries and specialized high-temperature industrial applications, their long-term plans include developing batteries for portable electronics, electric vehicles a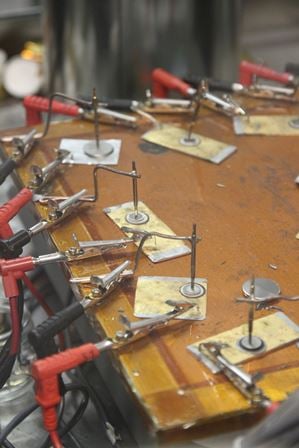 Prototype JBT ceramic batteries undergoing high-temperature testing.nd large-scale energy storage.
A JBT cell consists of a solid ceramic cathode material, a high-conductivity glass electrolyte and a lithium metal anode, which produces a working voltage of 4V. The unique chemistry has already demonstrated energy densities of 1100-1200 Watt-Hours per Liter (WH/l). This is expected to increase to around 2000 as the technology matures. In contrast, most commercially-available (Li-ion) batteries deliver only 500-600 WH/l.
The solid-state battery's chemistry reverses very cleanly, enabling test units to successfully undergo many thousands of charge/discharge cycles with minimal degradation in capacity. In addition, JBT cells can withstand higher and lower voltages than most conventional batteries and are designed for significantly lower self-discharge than conventional (Li-ion) batteries.
Using a solid electrolyte eliminates the passive corrosion problems, which make conventional (li-ion) chemistries prone to catching fire or exploding. It is also well suited for harsh environments and has already enabled prototypes to demonstrate reliable operation beyond 120°C (250°F). This, and the high-temperature hermetic packaging developed for the cells allows them to survive autoclave, pasteurization and other industrial processes. JBT's solid-state lithium-metal chemistry has been tested in very severe environments, undergoing drilling, boiling water and other stress testing. Under no circumstance did the battery catch fire or explode, unlike current battery technologies on the market.
With the technology still in its early stages, it will be a while before you will see ceramic batteries powering cell phones, power tools or electric vehicles. However, there are several areas where their unique advantages already give them a big advantage over existing solutions. Solid state batteries' durability, reliability and wide operating temperature range makes them an ideal fit for many industrial applications, especially in field equipment used by oil and gas companies. For example, JBT has already designed and delivered prototypes of a battery to power a pressure temperature gauge. The company has also been approached about developing a battery to be used in a sensor for the monitoring of oilfield cement curing.
JBT is also targeting the micro-battery market where they feel they have several significant advantages over the thin-film printed battery technologies used to manufacture today's products. The current crop of thin film cells offered by companies such as Cymbet are fabricated using relatively costly sputtering techniques to deposit a thin film cathode and electrolyte onto a ceramic substrate. The resulting products, used in remote sensors, IoT devices and small energy harvesting systems offer capacities in the 5-100 μA-hour range with maximum operating temperatures of -40 to 70°C. In contrast, JBT has demonstrated high-temperature batteries with an equivalent footprint that offer capacities of up to 1000+ μA-hours.
Watch a video on Revolutionary designs for energy alternatives: Lonnie Johnson at TEDxAtlanta.
CEO Johnson says that as the battery technology matures, JBT plans to expand their capacity to 10's hundreds, and thousands of Watt-Hours for use in portable equipment, vehicles, and energy storage systems. "These robust, high-capacity cells will be a perfect complement to the advanced thermo-electric generating system we're developing at our sister company, Johnson R&D" he says. "Together, they provide a cost-effective renewable power source that's available on a 24/7 basis. And that means a greener, more hopeful future for all of us".
For more information, contact the company at info@johnsonbatterytech.com or visit JBT's web site at http://johnsonbatterytech.com/.