dSPACE has announced new capabilities designed to increase the maturity of embedded software earlier in development stages with its RTI AUTOSAR Blockset. Enabling the frontloading of software development and validation activities,engineers can execute production AUTOSAR-compliant application software on the dSPACE MicroAutoBox II real-time development platform.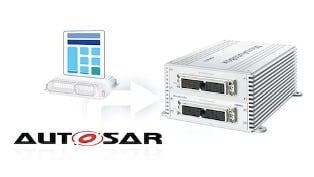 Based on the capability, engineers can combine control algorithms designed in MATLAB/Simulink with individual AUTOSAR application software components running on MicroAutoBox II. According to dSPACE, it's the first time, engineers can also import the complete AUTOSAR application software packaged together with the operating system (OS) as a virtual ECU (V-ECU) and execute it on MicroAutoBox II for software validation.
Virtual ECUs can be easily generated using the dSPACE SystemDesk tool. With the Blockset, the V-ECUs can be executed on MicroAutoBox II for such tasks as software development, fast control prototyping, benchmarking and testing, before the first ECU prototypes.
The RTI AUTOSAR Blockset makes it easy to transfer V-ECUs, the OS, and basic software configurations onto the MicroAutoBox II.
To contact the author of this article, email engineering360editors@ihs.com