The growth in the global automotive infotainment semiconductor market will decelerate a bit this year, according to IHS. Total semiconductor revenue in 2013 derived from automotive infotainment will reach $6.67 billion, up 3 percent from last year. Growth in 2012 was 3.5 percent, said IHS.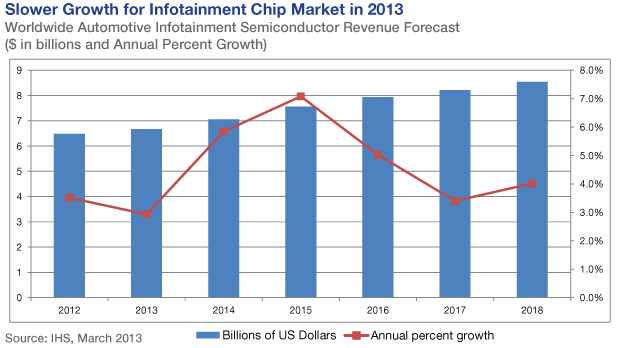 Growth is slowing in part because of a slowdown in the aftermarket and the portable navigation device (PND) segments, according to IHS.
Despite the speed bump, IHS expects a healthy rebound in 2014. That's because the automotive infotainment market overall is relatively immune to a downturn, unlike other markets that have been negatively affected by global economic uncertainties.
Case in point is an announcement from General Motors this week that it is bolstering its technology development investment and will be hiring 1,000 new employees in the Phoenix area.
The auto giant is opening its fourth Information Technology Innovation Center in Phoenix to support its IT needs, including web technologies, end-user applications and systems, dealer systems, factory systems and vehicle technology, the company reported. GM owns OnStar, a vehicle navigation and safety service.
IHS expects automotive infotainment applications to continue to increase as consumers clamor for built-in connectivity and telematics in cars, which now have become a major selling point for new vehicles. Used either alone or with mobile devices like smartphones and tablets, the infotainment systems in cars allow occupants to access information, safety features and entertainment options at will, paving the way for a more seamless interaction with the outside world.