Japan's Panasonic in 2012 remained the top supplier of automotive infotainment systems, putting it at the forefront of the fast-growing market for equipment that delivers information and entertainment to motorists, according to a newly released IHS report.
Panasonic posted automotive infotainment revenue of nearly $4 billion in 2012, giving it a 12.1 percent share of global market revenue, as presented in the attached figure.
"In a replication of the results of 2011, Panasonic along with the rest of the Top 10 accounted for nearly two-thirds of overall motor vehicle infotainment revenue in 2012," said Luca de Ambroggi, principal analyst for automotive infotainment at IHS. "Of the industry's total revenue last year of $34.6 billion, the Top 10 accounted for $22.6 billion, or 65 percent."
Japanese companies as a whole performed well, noted de Ambroggi, taking up six of the 10 top slots for the year, even though two Japanese makers posted negative revenue growth. The remaining four spots in the Top 10, were taken by two American and two German companies.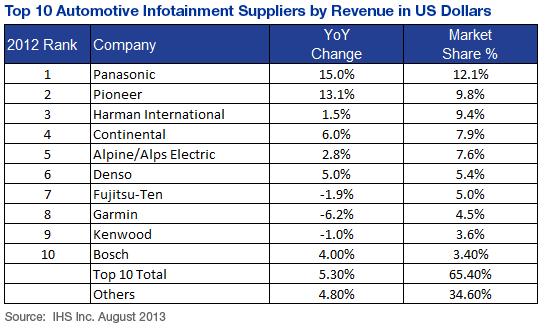 Top 5 make a splash
Growing 15 percent on the year to attain revenue of $3.98 billion in 2012, Panasonic was the lone manufacturer to enjoy a double-digit share of the automotive infotainment market. The company did well in the aftermarket as well as in its dealings with original equipment manufacturers (OEM) of infotainment systems. Panasonic was also No. 1 in 2011.
Up a notch to No. 2 was Pioneer, also from Japan. Pioneer moved up from third place in 2011 in light of a 13.1 percent expansion to give it revenue of $3.21 billion, equivalent to a market share of 9.8 percent. Similar to its fellow Japanese competitors, Pioneer has a well-diversified portfolio comprising OEM and aftermarket dealers, boosted by strong presence in the United States, China and the emerging markets in developing countries.
The top American maker on the list was No. 3 Harman International of Connecticut, which fell from second place in 2011. However, a spate of announcements made by the company on new contracts it has acquired could give Harman a boost in the next couple of years, IHS believes. Harman's 2012 revenue amounted to $3.10 billion, giving it a 9.4 percent market share.
Rounding out the Top 5 were Continental of Germany with revenue of $2.62 billion, or 7.9 percent market share; and Alpine/Alps Electric of Japan with $2.49 billion, or 7.6 percent market share.
And the rest…
The rest of the Top 10 included Denso of Japan at No. 6; Fujitsu-Ten, also of Japan, in seventh; U.S. personal navigation device (PND) maker Garmin in eighth; Japan's Kenwood at No. 9; and Bosch of Germany in 10th place with 3.4 percent market share. Those posting revenue declines were Fujitsu-Ten, Garmin and Kenwood. Another U.S. name, TomTom, lost position and market share last year, tumbling out of the Top 10 altogether.
Both Garmin and TomTom suffered sizable losses as the once-hot PND market has been reduced to a shadow of its former might, the mapping and navigation functions that was a mainstay of the industry now co-opted by smartphones.
All told, infotainment is seeing an increase in both its importance and role in the automotive market, IHS believes. Features like connectivity, telematics and an intuitive human-machine interface now count as major purchase decisions for consumers looking to buy new cars.
Tier 1 infotainment suppliers as a whole are developing expertise in software-based platform designs for enabling communication between cars and the outside world. However, the production of infotainment systems is no longer their exclusive domain. Many other players from the PC and consumer electronics industries, possessing ample experience in mobile devices and how they link up with other gear including automotive components, are now also entering the car industry as infotainment suppliers.
Together, new and established players alike are building fresh hardware and software architectures, designed especially to allow mobile devices like smartphones and tablets to interface with in-vehicle infotainment systems.