CUI Inc. has announced a line of ultra-compact 5W wall plug adapters for the U.S., Japanese and European markets complete with an integrated USB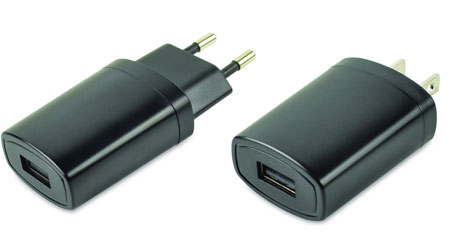 The adapters meet Level VI standards that go into effect in 2016. Source: CUIconnector. The SWI5-5-N-I38 and SWI5-5-E-I38 models are designed to meet the stringent average efficiency and no-load power requirements mandated by the U.S. Department of Energy (DOE) that will go into effect on February 10, 2016.
Level VI standards are intended to significantly lower the amount of power consumed when an application is at rest, or is no longer connected to the system. Domestic or global manufacturers seeking to market their end product with an external adapter in the U.S. must meet the new performance standards.
Featuring a footprint as small as 2.56 x 1.42 x 0.89 inches (64.92 x 36 x 22.5 mm), the adapters are among the industry's smallest AC-DC power supplies to integrate a USB connector. The ultra-compact design makes it ideally suited for a wide range of consumer applications, including media players, e-readers, GPS and other mobile devices. The 5W adapters feature 5Vdc single regulated outputs with a wide universal input voltage range from 90-264 Vac. The series also features no-load power consumption <0.075 W and provides over voltage, over current and short circuit protections.
Designed with input blades for North American and Japanese applications, the SWI5-5-N-I38 offers 60950-1 UL/cUL and PSE safety approvals while the SWI5-5-E-I38 with European input blades offers GS safety approvals. All models meet Class B limits for conducted and radiated emissions.
The adapters are available immediately with prices starting at $5.36 per unit at 100 pieces through distribution.
Related Links:
For more information on the DOEs upcoming Level VI regulations, click here: http://www.cui.com/efficiencystandards
SWI5-N series: http://www.cui.com/product/power/ac-dc-power-supplies/external/wall-plug-in/us-blade/swi5-n-usb
SWI5-E series: http://www.cui.com/product/power/ac-dc-power-supplies/external/wall-plug-in/european-blade/swi5-e-usb