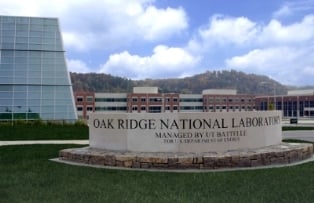 The Oak Ridge National Laboratory where one of the centers for excellence for supercomputing will be located. Source: DOEIBM along with NVIDIA and two U.S. Department of Energy National Laboratories have announced a pair of Centers of Excellence for supercomputing, which will be located in Lawrence Livermore National Laboratory and Oak Ridge National Laboratory. The collaborations support IBM's supercomputing contract with the U.S. Department of Energy (DOE). They will enable advanced, large-scale scientific and engineering applications, both for supporting DOE missions, and for the Summit and Sierra supercomputer systems to be delivered to Oak Ridge and Lawrence Livermore in 2017 and to be operational in 2018.
At each of the Centers, the teams will gain crucial application perspective that will complement the hardware and software development of Summit and Sierra and will enable application readiness at the time of installation. Early application code innovation, executed in tandem with the system development, allows important two-way feedback between the system developers and the application writers. This is to ensure that the ongoing system design will correctly and effectively support necessary user applications.
Incorporating IBM's advanced POWER processors with next-generation NVIDIA Tesla GPU accelerators and the NVIDIA NVLink high-speed processor interconnect, Summit and Sierra will use a highly efficient, high-performance data-centric computing approach that minimizes data in motion, thereby helping to optimize problem solving and time to solution while greatly reducing overall energy consumption.
"Application code innovation is a vital component of making sure our facilities are prepared to take advantage of the performance of the new supercomputers," says Michel McCoy, program director for Advanced Simulation and Computing at the Lawrence Livermore National Laboratory. "By partnering with IBM and NVIDIA, the Centers of Excellence bring together the people who know the science, the people who know the code, and the people who know the machines—ensuring we are innovating across the board so that Sierra and Summit will be primed to achieve their missions for national security and scientific advancement as soon as they're delivered."
In addition to their data-centric design, the systems follow an OpenPOWER design concept that uses IBM's open POWER architecture, as well as OpenPOWER Foundation member technology, including NVIDIA GPU and NVLink technologies, and Mellanox's EDR 100Gb/s InfiniBand system interconnect. Applications developed at the Centers of Excellence will take advantage of current and future innovations introduced by the growing OpenPOWER community of developers led in part by over 145 OpenPOWER Foundation members worldwide. Code innovations realized that the Centers will also benefit general purpose OpenPOWER-based commercial systems that will be introduced by IBM and others.
The Centers of Excellence collaborations are set up to support each of the Oak Ridge and Lawrence Livermore labs' specific missions. With each, key computational scientists from IBM and NVIDIA work closely with the applications scientists from the labs to develop tools and technologies that will optimize codes and achieve the best performance on Summit, Sierra and other general use systems that follow the OpenPOWER design concept. Together, the teams are developing new ways to think about the programming models, algorithms, applications and computer performance.
"The work accomplished through the Centers of Excellence will be a milestone in our collaboration with the U.S. Department of Energy," says Dave Turek, IBM vice president of HPC Market Engagement. "It is about more than just delivering our new data-centric OpenPOWER-based hardware systems. Along with NVIDIA, our scientists are ensuring Oak Ridge and Lawrence Livermore are able to get the most out of these revolutionary supercomputers to reach the next level of scientific discovery. In addition, our expectation is that many of the codes that are worked on will find benefit in other sectors of the U.S. economy."
News articles:
Will Globalfoundries be More Successful than IBM with Its Foundry Business?
Acquisition Won't Help OmniVision Corner the Market in China