Nokia Oyj, the telecommunications giant that sold it mobile phone handset business to Microsoft in 2013, is set to acquire fellow European network equipment company Alcatel-Lucent in an all-share transaction that values the loss-making, French-based company at €15.6 billion (about $16.7 billion).
In a joint statement, Nokia (Espoo, Finland) and Alcatel-Lucent (Boulogne-Billancourt, France) say the combined company will be well-suited to address the next generation of networking change, which includes 5G, the Internet of Things and a transition to cloud-based services.
The companies also point out that their portfolios and geographic footprints hold synergies. Alcatel-Lucent is stronger in North America while Nokia's networking business has strength in Europe and Japan.
"With more than 40,000 R&D employees and spend of €4.7 billion in R&D in 2014, the combined company will be in a position to accelerate development of future technologies including 5G, IP and software-defined networking, cloud, analytics as well as sensors and imaging," the statement reads.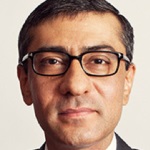 Rajeev SuriThe deal has been agreed to by both boards of directors. Under its terms, Nokia will issue 0.55 new Nokia shares for each ordinary share and American Depository share in Alcatel-Lucent. At the conclusion of the deal, Alcatel-Lucent shareholders would own 33.5% of the company and Nokia shareholders would own 66.5 percent, assuming full acceptance of the public exchange offer.
The company will be called Nokia and be headquartered in Finland. Risto Siilasmaa is will serve as chairman, and Rajeev Suri will remain in position as CEO.
At the same time, Nokia has announced it plans a review of the strategic options for its HERE business, including a divestment. HERE is Nokia's business unit that focuses on navigation, mapping and location intelligence.
"The deal was looming and expected, as there was no way these two companies could survive stand-alone given current market conditions and how the future is shaping up," says Stephane Teral, principal analyst for mobile infrastructure at IHS.
When Nokia sold off its handset business in 2013, it was left with its business in network infrastructure, online mapping and technology development and licensing. Alcatel-Lucent is a supplier of networking hardware, software and services formed by the merger of Alcatel and Lucent Technologies in 2006. Lucent itself is the progeny of AT&T and includes the famous Bell Laboratories in Murray Hill, N.J.
A merger of Nokia and Alcatel-Lucent, creating a company with approaching €26 billion (about $27.7 billion) in annual sales, probably makes sense on strategic grounds. The merged entity would be on a par with Ericsson AB, which had 2014 sales of 228 billion Swedish Krone (about $26 billion). However both would be a long way behind China's Huawei , which had sales in 2014 of 288 billion yuan (about $46 billion).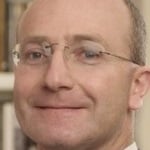 Stephane Teral
Mergers of this magnitude rarely produce the full benefits expected, and the whole is frequently less than the sum of the parts.
Nokia would have to address the losses of Alcatel-Lucent, but may not initially have a free-hand to make cuts if preserving jobs is one of French authorities' conditions for approving the takeover.
Alcatel reported a net loss last year of €83 million (about $88 million). The company has reported a string of losses over the past several years.
Nokia, on the other hand, has been turned around since it decided to sell its handset business off at a price that many considered too low. Nokia made a profit of €3.48 billion (about $3.71 billion) in 2014 and expects further improvements in 2015.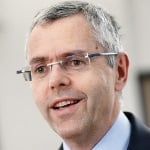 Michel Combes
"A combination of Nokia and Alcatel-Lucent will offer a unique opportunity to create a European champion and global leader in ultra-broadband, IP networking and cloud applications," says Michel Combes, CEO of Alcatel-Lucent, in the statement.
"The proposed transaction represents a compelling offer for our shareholders both in terms of upfront premium and long term value creation potential," Combes says. "Shareholders of Alcatel-Lucent now have the opportunity to participate in the future upside of the industrial project that they have supported during the last two years."
Questions or comments on this story? Contact: peter.clarke@globalspec.com
Related links and articles:
IHS Mobile Devices & Networks Research
News articles: