Sony Corp. has ordered more than $14.5 million worth of components from laser-based projection display technology developer MicroVision Inc. as Sony begins to roll out projection display modules.
MicroVision (Redmond, Wash.) did not explicitly identify Sony (Tokyo) as the customer in a statement announcing the order. But MicroVision CEO Alexander Tokman acknowledged the customer was Sony in a conference call held to discuss MicroVision's fourth quarter 2014 and full year results.
"We licensed our PicoP display technology to our Fortune Global 100 customer, Sony, in a milestone agreement for MicroVision," Tokman said. He added: "In addition to an upfront license fee of $8 million, the agreement includes provisions for royalties that will be paid on future sales of display modules." Tokman added that MicroVision will also be selling key components for the display modules.
MicroVision has been working for a number of years on a patented MEMS scanner component that, when combined with red, blue and green laser light sources, can produce an always-in-focus, high-definition image with a broad color gamut. It calls this technology PicoP. A small form factor and low power consumption make it suitable for inclusion in mobile devices. The technology is also suitable for head-up display in automobiles.
The components MicroVision is selling to Sony are expected to be incorporated into display modules that will begin shipping in the second half of 2015 and continue into 2016. MicroVision is currently fulfilling component orders received from Sony in the second half of 2014 worth $3.8 million.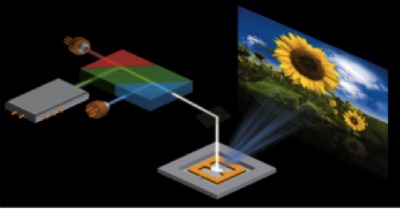 MicroVision aligns RGB lasers plus a scanning MEMS to make picoprojection. Source MicroVision Inc.Tokman said Sony is working with a smartphone manufacturer and that MicroVision is working with several companies that want to introduce aftermarket projection and head-up displays. In addition, there are uses in the home that not traditional projection applications, Tokman said.
Tokman added that the company's strategy has been to work with a few vital market makers that could roll the technology out.
"So the validation point is simply that if they [Sony] didn't believe in this market opportunity, we would have not gone this far," Tokman said. "They've invested a significant amount of money into this proposition. What they've given us is a fraction of what they are investing because they truly believe that there's something special about this emerging market and once the success is shown, we believe that there will be many copycats who will join— like pigs at the trough."
MicroVision a net loss of $18.1 million on sales of $3.5 million for 2014. Revenue was down from $5.9 million in 2013, while the net loss was widened from $13.2 million in 2013.
However, the company did announced during 2014 that it is working with a second electronics brand on the Fortune Global 500 list on a smartphone product and that, in the automotive segment, it delivered prototype HUD units to a major vehicle OEM and a tier-one automotive supplier. Those customers are evaluating the PicoP display technology based HUD systems.

Alexander TokmanOn the conference call, Tokman said: "We expect to achieve significant year-over-year growth [in 2015] by focusing attention on making our customers successful, whether providing them with high quality components or assisting them with their go-to-market efforts."
Based on the latest information from the IHS Technology Quarterly Small/Medium Shipment and Forecast Report, in 2014 automotive display revenues (not including aftermarket displays) increased 26 percent year over year, to reach $848 million while the mobile phone display market increased 4 percent, reaching $1.2 billion.
Questions or comments on this story? Contact: peter.clarke@globalspec.com
Related links:
IHS Emerging Display Technology Research
News articles: