On just about any given day, you can pick up an Indian newspaper and read about a new solar project being commissioned in the country or a new policy announcement by the government. This steady stream of press coverage is the direct result of the government's ambitious 2010 National Solar Mission that aims to establish India as a global leader in solar energy, including photovoltaics (PV), within the decade.
A recent IHS report on solar PV developments in emerging markets took a close look at developments in over a dozen countries and concluded that India was at the top of the list of emerging nations in terms of market potential. The report attributed India's strong showing in large part to the National Solar Mission program, which it estimates has resulted in the installation of over 1 gigawatt (GW) of cumulative PV capacity as of the end of 2012, the lion's share consisting of large commercial and utility-scale plants.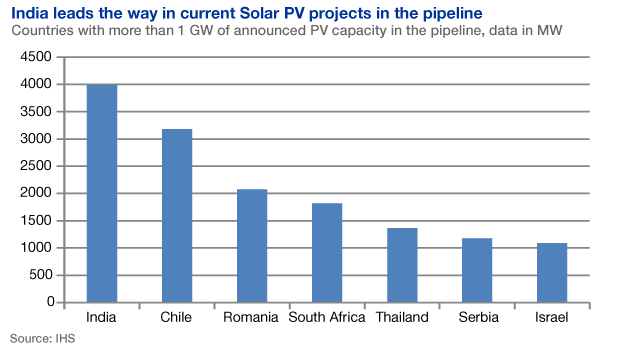 Other high-growth emerging markets to watch include Brazil, South Africa and Turkey, according to the IHS report.
Of course, it's still the early days in India's evolution as a viable global competitor. The country's PV industry is young and there are financial and business hurdles to clear for it to meet the government's target of installing 20 GW of solar power by 2022, or of reaching the interim target of 10 GW by 2017.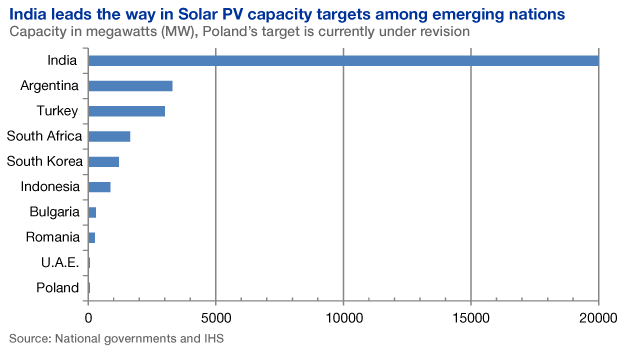 Then there are systemic issues such as the Indian government's notoriously cumbersome bureaucracy that could limit the pace of development. Indeed, some observers argue the government's efforts to date leave a lot to be desired.
"The solar initiative in India has not really boomed but neither has it busted," said Ashok Das, CEO of Sun Moksha, a boutique clean technologies solutions company. "The National Solar Mission has just been marginally successful and has not gained the momentum that it should have," he said.
Still, a number of major engineering, procurement and construction (EPC) companies are betting on the Indian government's plan and have either entered the market or are drawing up plans to do so in the near future. These include Indian companies such as Mahindra Group, Larsen & Toubro, GMR Group, Sterling & Wilson and Welspun Energy. Also, foreign firms such as the Juwi Group and Conergy Solar Energy Systems and Services from Germany plus Portugal's Martifer Solar are entering the fray.
Some foreign companies have taken the joint-venture route. These include a few notable 2011 partnerships such as Enfinity, a Belgium-based renewable energy developer, that formed a JV with Titan Energy Systems, an Indian manufacturer of photovoltaic modules; Swiss-based meeco AG that partnered with both PV Energy Private Ltd, the Indian subsidiary of PV Energy Limited, UK and Soma Enterprise Ltd; and Electrotherm India, which signed an agreement with Immodo Solar S.A. of Spain to produce a complete EPC solar project.
Other recent JVs include India's Harsha Solar that has partnered with German-based Abakus Solar A.G., India's Greenforce Enviro with German-based Gehrlicher Solar AG; India's XL Telecom with Spain's SDEM TEGA and U.S.-based SunEdison with India's Azure Power. Kolkata, India-based Vikram Solar, a crystalline photovoltaic module manufacturing company, has entered into a 51:49 joint venture with Proener Renovables of Spain to supply plant and machinery for solar power projects.
Reinforcing this activity is the IHS report's accelerated growth scenario which forecasts that six emerging PV markets, including Australia, India, South Korea, Israel, Ukraine and Bulgaria, will add 367 GW to the grid from 2012 to 2035 at an average rate of 15 GW per year. "Of this, India represents the bulk of growth, enabled by rapid cost declines of systems, improved incentive schemes, and accelerated tender procedures," said Ash Sharma, director of syndicated research for solar research at IHS.
Pick up the pace
Although the signs point to a burgeoning opportunity in India, some industry experts believe that much faster momentum could be gained if the government was more aggressive and pro-active.
"Prices of solar modules as well as that of solar power generation have fallen drastically, but the government is delaying the bidding for new projects," said one leading solar systems integrator who requested anonymity. "In the last two years, only 1,000 megawatts have been achieved. We are disappointed with the way the government is working. We are losing out in the long term because of the delay in tender announcements," he said.
T.J. Joseph, CEO of Anu Solar, a renewable energy company based in Bangalore, echoes this sentiment. "If you ask me policy-wise, 'is enough being done?' the answer is 'yes.' But when it comes to administration and execution of these projects, then the answer is 'no.' The pace is too slow."
Joseph believes the industry should not always rely on the government. It should be more independent and pro-active. One opportunity he points to is solar systems for single-family homes. "We are bullish on solar and are strongly pitching for generating solar power at individual house level," he said. "They should be encouraged to generate their own power."
Earlier, Anu Solar was manufacturing and selling solar water heaters, but has recently begun manufacturing power generation equipment. The company is able to convince customers that if they shell out $2,500, they can generate 1 KW at home. The company has partnered with a finance company to enable financing options for buyers.
Flight of venture funding
Another factor affecting the pace of development is the lack of money. Venture capital investments touched a five year low last year in the global solar sector with a dramatic drop of nearly 50 percent to around $992 million in 103 deals. It was the lowest level since 2007, according to clean energy communications and consulting firm Mercom Capital Group. This was in stark contrast to the $1.9 billion raised from 108 deals in 2011.
"The same thing is happening in India too," said Venkat Rajaraman, CEO, Solarsis, a leading EPC and solar systems integrator based in the southern Indian city of Hyderabad. "VCs are not too keen to invest in solar projects because they are seen as glorified fixed deposit schemes. You know beforehand what the feed-in-tariff will be so the revenue coming in and the return on investment is pretty much fixed. Hence it doesn't attract significant investment. Nevertheless, there are bigger players coming in for the current level of returns."
On a positive note, India's recently announced Open Access system, which allows any large power consumer to buy power from private suppliers, seems to be taking off. Open Access is seen as an alternative business model to chasing FiT revenue or relying on projects through the government's National Solar Mission.
"This is certainly helping companies that generate solar power and wish to sell it," said Narender Surana, Managing Director, Surana Ventures, "We are now able to sell the power we generate to companies that consume a large amount of power and it certainly is working out well."