Photovoltaic (PV) installations are set to rise 20 percent in 2014 as strong fourth quarter demand comes from China and the United States, according to a new report from IHS Technology, owner of Electronics 360.
Solar installations are expected to rise to 45.4 gigawatts this year, a 20 percent increase from the installations of 37.8 GW in 2013, IHS forecasts. Of that, 14.4 GW, or 32 percent of this total, is expected to come in the fourth quarter as strong demand from China and the United States will make it the largest in terms of new installations.. China and the U.S. will account for more than half of all global demand in the final quarter of the year.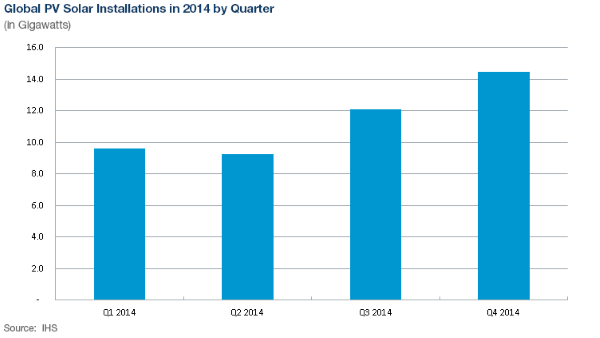 During the first half of the year, solar installations were down across Europe and other countries that typically acquire a heavy volume toward the year's end. Some bright spots remained in the U.K. and Japan that achieved strong installation growth, IHS said. However, Germany and Italy – two former leaders in PV – will see another year of market declines in 2014.
"Following a first half that saw declines in several key countries, the global PV solar market is undergoing a major acceleration in the final quarter of the year," said Ash Sharma, senior director of solar research at IHS, in a statement. "China and the United States will propel global growth. With China installing more than 5 GW and the United States installing 2.3 GW in the fourth quarter of 2014.The huge final quarter in China is expected to be only slightly higher than what was achieved in the same quarter of 2013—a figure that surprised many in the industry."
One of the more interesting stories in the PV market this year is the rise of the U.K., which saw a huge expansion in utility-scale installations in the first quarter as developers took advantage of attractive renewable obligation certificates (ROC). IHS forecasts that the U.K. will see 3.0 to 3.2 GW of new installations in 2014, making the country the fourth largest market this year after China, Japan and the U.S. IHS sees a strong 2015 for the solar market in the U.K. as well.
As far as the future goes for PV installations, IHS forecasts the solar market to remain solid but slow slightly. Annual installations are expected to grow 16 percent in 2015 with 53 GW of new capacity being added. But a majority of this growth may be coming from other areas outside of China as new installations will slow to 10 percent growth, down from 30 percent in 2014 – unless new policy or targets are raised further. Other slight declines in new installations will be seen in Japan as well.
Related links:
News articles:
Solar Microinverters, Power Optimizers Set For Substantial Growth
Water-based Nuclear Battery Generates Electricity
Fab Method Shows Promise for Solar-Powered Phones
Brazil Solar Auction Expected to Ignite PV Growth in Latin America