Worldwide semiconductor sales grew to $28.1 billion in July, setting a new monthly record, accordingto the Semiconductor Industry Association (SIA).
Global chip sales were up 9.9 percent compared to July 2013 and up 2.4 percent from June of this year, the SIA said. June's sales total of $27.4 billion, had been the previously monthly sales record.
Regionally, sales in the Americas increased by 8.1 percent compared to last July, while sales in Europe grew 14.9 percent, the region's strongest year-over-year growth since October 2010. Chip sales in Asia Pacific increased 2.3 percent and 2 percent inJapan, according to the SIA.
"The global semiconductor industry posted its highest-ever monthly sales in July andremains on track for a record year in 2014," said Brian Toohey, SIA presidentand CEO, in a statement.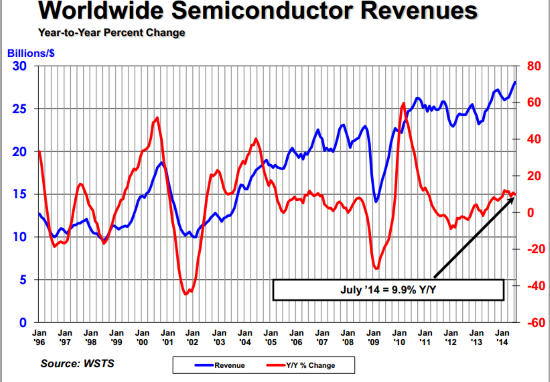 Toohey noted that all regions posted both month-over-month and year-over-year increases for the third straight month, marking the first time that has happened in over four years.
In addition sales increased in July across all semiconductor product categories, signifying the market's broad and consistent strength, said Toohey.
All monthly sales numbers are compiled by the World Semiconductor Trade Statistics (WSTS) organization and represent a three-month moving average.
WSTS forecasts that the semiconductor market will end 2014 growing 6.5 percent to $325 billion with much of the growth being driven by smart phones, media tablets and automotive. Analog chips and sensors will post the highest growth rates among product categories with sales rising 9.1 percent for each, according to WSTS.
Chip sales will rise another 3.3 percent to $336 billion in 2015, the organization said.
Related stories: